Federal Reserve Chair Jerome Powell was briefly escorted out of a room in Washington, D.C., on Thursday after climate protesters interrupted a speech that he was delivering on monetary policy.
The protesters — who appeared to be from a group called Climate Defiance — were removed by security.
The group's mission calls for "consistent, mass-turnout, nonviolent disruption to stop business as usual and compel politicians to act" in order to end fossil fuel extractions on federal lands and waters.
FED'S POWELL WARNS SLOWER ECONOMIC GROWTH MAY BE NEEDED TO COOL HIGH INFLATION
This is the second time in a month that the group has interrupted an event attended by Powell. Climate protesters also forced Powell to be escorted off of the stage three weeks ago when he was about to deliver comments on the U.S. economy at an event in New York.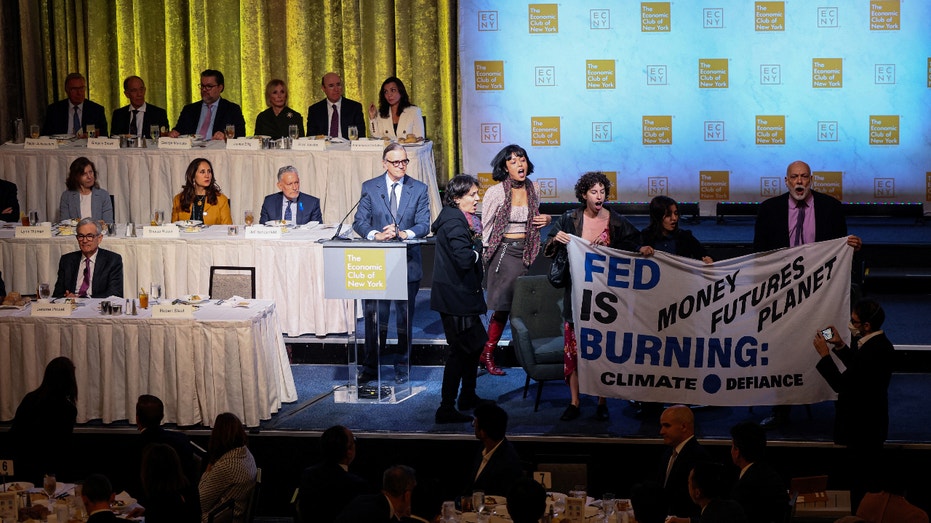 His speech on Thursday was focused on inflation, monetary policy and the broader U.S. economy.
Powell did not comment on the protesters when he returned.
In his speech, Powell suggested that more work could be ahead for the central bank in its fight against inflation. 
Although inflation has cooled considerably in recent months, it remains up 3.7% compared with the same time one year ago, according to the most recent Labor Department data.
"We know that ongoing progress toward our 2% goal is not assured: Inflation has given us a few head fakes," Powell said. "If it becomes appropriate to tighten policy further, we will not hesitate to do so."