Baseball enthusiasts, sports memorabilia collectors and fans of America's pastime are gearing up as the world's most expensive baseball card, according to Robert Edward Auctions of Chester, New Jersey, is going up for auction on Nov. 17, 2023.
The unveiling events are set for Nov. 15, 2023, in Baltimore, Maryland, and in New York City at a private location on Nov. 29, 2023.
The 1914 Babe Ruth rookie baseball card is said to be one of the rarest cards in the world. 
CALIFORNIA MAN PREPARES TO SELL NEARLY 60-YEAR JAMES BOND MEMORABILIA COLLECTION FOR $1 MILLION
It's expected to sell for $10M at the minimum — and could even break the world record that's pegged at $12.5 million, according to Brian Dwyer, president, Robert Edward Auctions.
The auction will run from Nov. 17 until Dec. 3, 2023. The card will be on display at the Babe Ruth Museum in Baltimore on November 15. 
"We will also hold a private reception for interested bidders in New York City on November 29," Dwyer said. 
Said Dwyer, "The 1914 Baltimore News Babe Ruth is the most important card ever made, as it represents the origin of Babe Ruth in the game of baseball and in the trading card hobby."
Pictured on the card is a 19-year-old Babe Ruth of his hometown Baltimore Orioles of the International League.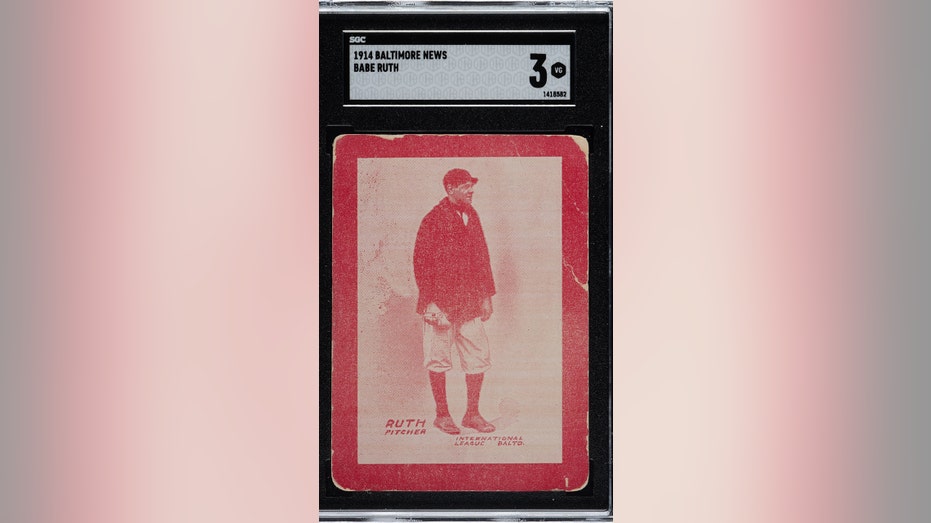 The 2 5/8″ x 3 5/8″ card features Ruth as a member of Baltimore's minor league club and was part of a set of cards that featured player images on the front and a team schedule on the back.
By the end of the year, Ruth would be on the Red Sox — and the team would cease to exist by the following season, adding to the storied history of this card, Dwyer told FOX Business.
"This is one of only 10 examples in existence and is the first publicly available example in more than a decade," he said. 
QUEEN ELIZABETH II'S RANGE ROVER HITS THE AUCTION MARKET AFTER NEARLY 20 YEARS AND OVER 100,000 MILES
"When this set was released by the Baltimore News in 1914, the newspaper released the cards in red and blue versions," said Dwyer. 
"This one, which is red, is graded VG ('Very Good') 3 by SGC. Only one example is graded higher (a PSA 4). This is also the finest condition example to appear at auction in more than 15 years."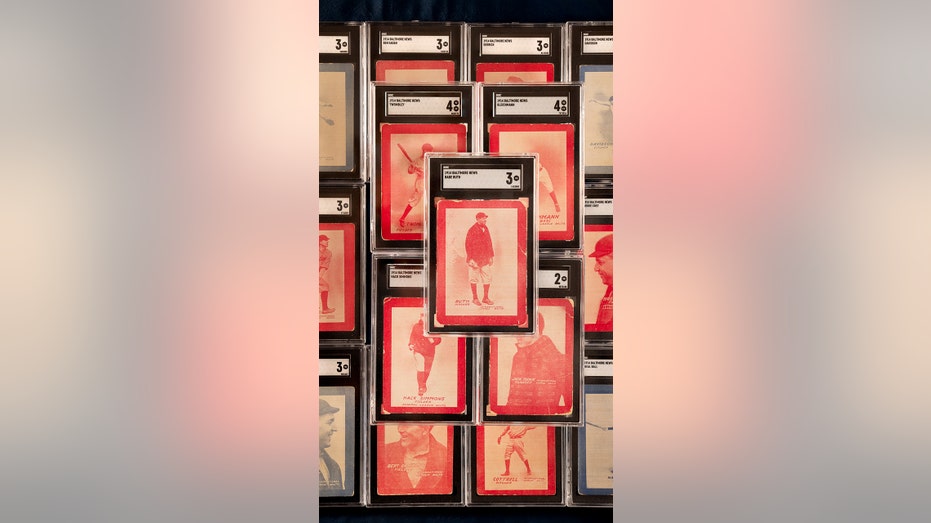 He added, "We believe that this card will sell for upward of $10 million or more."
How did the auction house acquire this card? 
Robert Edward Auctions has had a longstanding relationship with the consignor, and the individual ultimately chose to sell the card in its fall auction because of the strong pedigree the company has in vintage sports collectibles, said Dwyer. 
"This is one of only 10 examples in existence and is the first publicly available example in more than a decade."
He specifically referred to "our record-setting sale of the famous T206 Honus Wagner card for $6.6 million in 2021, as well as the 1921 game-used Babe Ruth bat that sold in our last auction for $1.3 million," said Dwyer about the consignor.
Why might this baseball card set a world record?
There is significant pent-up demand from established sports card collectors for this card, according to Dwyer. 
$10,000 BILL FROM 1934 SELLS FOR $480,000 AT TEXAS AUCTION: 'ABSOLUTE PRIZE'
"And we believe that its rarity and significance will attract the attention of a new wave of buyers, since examples come to market so infrequently," he said.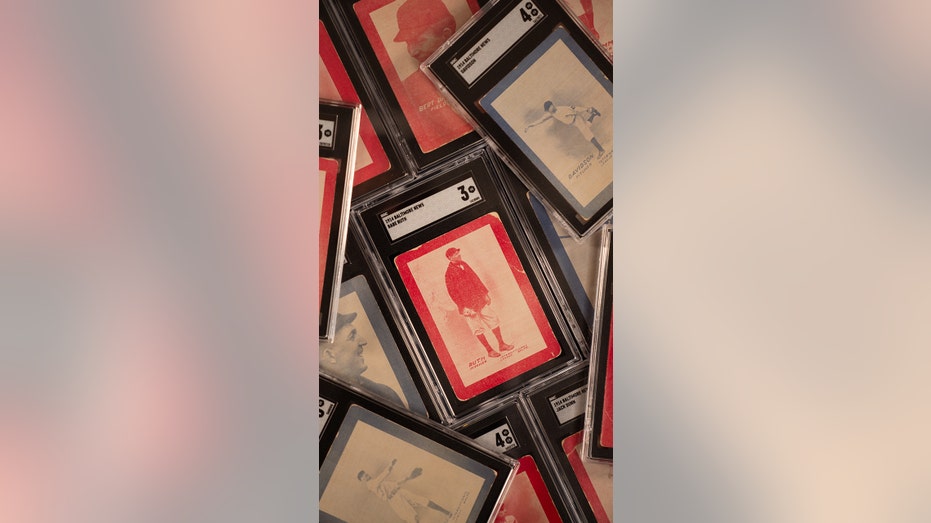 "When you compare it to some of the other legendary and record-setting cards such as the 1952 Topps Mickey Mantle and the 1909 T206 Honus Wagner, they pale in comparison on a rarity scale next to the Ruth."
Why such enduring interest in Babe Ruth?
Babe Ruth is almost single-handedly responsible for ushering in a new period in baseball following the "dead ball" era, said Dwyer. 
"Instead of singles and doubles, the Great Bambino treated fans to gargantuan home runs that remain the benchmark for power-hitting to this day," Dwyer said.
"Babe Ruth is hands-down one of the most iconic figures in American history."
"He was the catalyst behind four Yankees World Series championships as well as three World Series titles for the Red Sox before that." 
In addition, his 60 home runs in 1927 set a new precedent and made him a larger-than-life figure not only on the field but across American pop culture. 
"Even today, long home runs are often defined as 'Ruthian' and he was famously described in the beloved movie 'The Sandlot' as 'less than a god but more than a man,'" Dwyer suggested.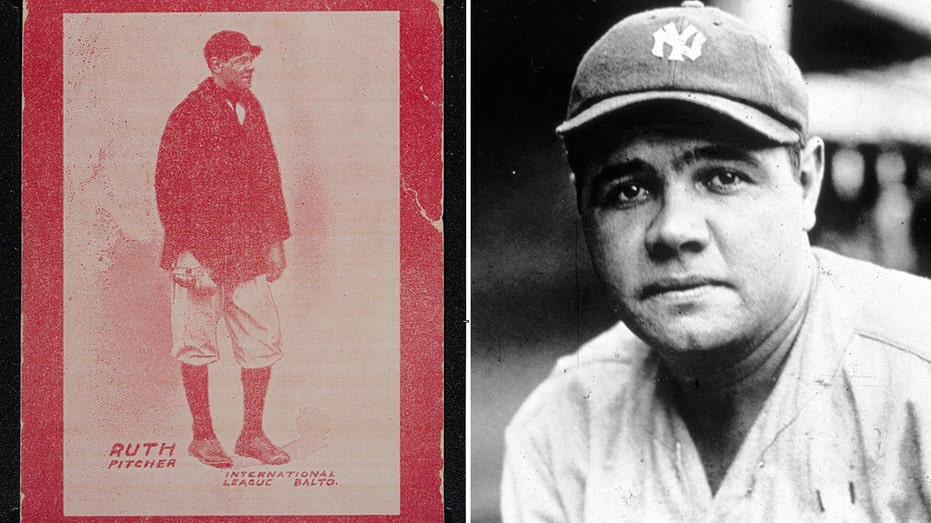 "Babe Ruth is hands-down one of the most iconic figures in American history."
What kind of interest is anticipated for this card?
There is an understanding among collectors that this opportunity may not come along again for many years, said Dwyer. 
"After more than a decade without having the opportunity to acquire one via auction, we anticipate the interest in this card to be very strong among collectors and investors alike," he said.
"Not only will the winning bidder make history, we believe they will come to own one of the most significant collectibles in existence."
Are certain collectors always part of this type of sale?
Robert Edward Auctions has a loyal contingent of bidders in their auctions, said Dwyer, but with the magnitude of this card he anticipates great interest. 
"We expect a number of new collectors, enthusiasts and other high-net worth individuals to join the bidding process," Dwyer told FOX Business.
How to capture a piece of baseball history
For anyone who wants to see the card in-person, it will be on public display at the Babe Ruth Birthplace & Museum in Baltimore on Wednesday, Nov. 15, from 2 p.m. to 4 p.m. ET.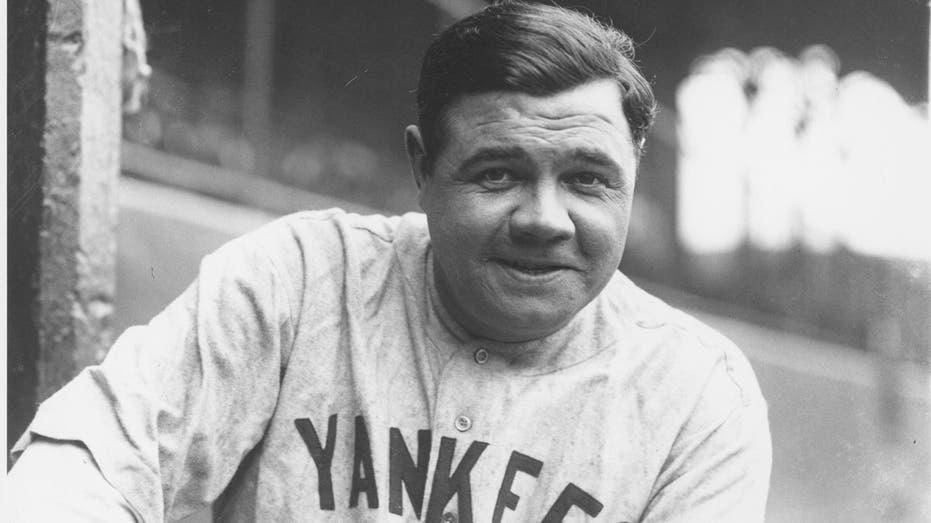 Also, this red card will be displayed alongside a blue example of the card, Dwyer pointed out.
Following the public viewing on Nov. 15, Robert Edward Auctions will be co-hosting a closed reception at the museum from 5 p.m. to 8 p.m. ET.  
Robert Edward Auctions will also host a second exclusive event for prospective bidders at a private location in New York City on Wed., Nov. 29.
Those interested in attending the events can email the auction house at [email protected] to request a spot, as space is limited.
For more Lifestyle articles, visit www.foxbusiness.com/lifestyle.