A young group of "Swifties" have gone viral after a video showing their attempts to open a "1989 (Taylor's Version)" compact disc (CD) was uploaded to TikTok — and the megastar herself responded.
The 11- and 12-year-olds came together to give their friend Annika the newly released Taylor Swift CD in hopes of cheering up the friend after she broke her wrist during soccer practice, mom Shannon Schmidt told Fox News Digital.
"The girls knew what a CD was, but we had to borrow Grandma and Grandpa's CD player to let them fully experience it," Schmidt shared.
COUPLE'S VIRAL 'TAYLOR SWIFT JAR' HAS WIFE PAYING A QUARTER WHENEVER SHE MENTIONS THE STAR
The video captures the comical moment the three sixth and seventh graders attempted to open the CD.
The girls — Lilly, Henslee and Annika — can be heard struggling to figure out how to get the CD out without breaking it or looking for a button to press in order to release it from the case.
Schmidt watched the girls' efforts, saying, "You guys are making me laugh because this is how we used to listen to music."
Seconds later, Lilly can be seen pressing the middle of CD, releasing it from the case.
FIRST CD TO BE COMMERCIALLY PRODUCED WAS 41 YEARS AGO TODAY: WILL CDS MAKE A COMEBACK?
The girls were amazed when they finally were able to get their hands on the soundtrack.
"The girls' struggle with the CD was a wake-up call to how times have changed since we 'cut the cord,'" Schmidt commented. 
The mothers of the girls could not help but laugh as they realized just how different things are now, thanks to technology.
"Watching the girls grapple with the CD case felt like stepping back in time," Jody, one of the moms, told Fox News Digital.
TAYLOR SWIFT SUPERFAN SPENT NEARLY $9K TO ATTEND 12 ERAS TOUR CONCERTS: 'A BIG DEAL'
"That moment of pure innocence when the girls first attempted to open the CD case was priceless," Tia, another mom, told Fox News Digital. 
"I knew then that we had to flip the camera on to capture the rest of their experience with the CD."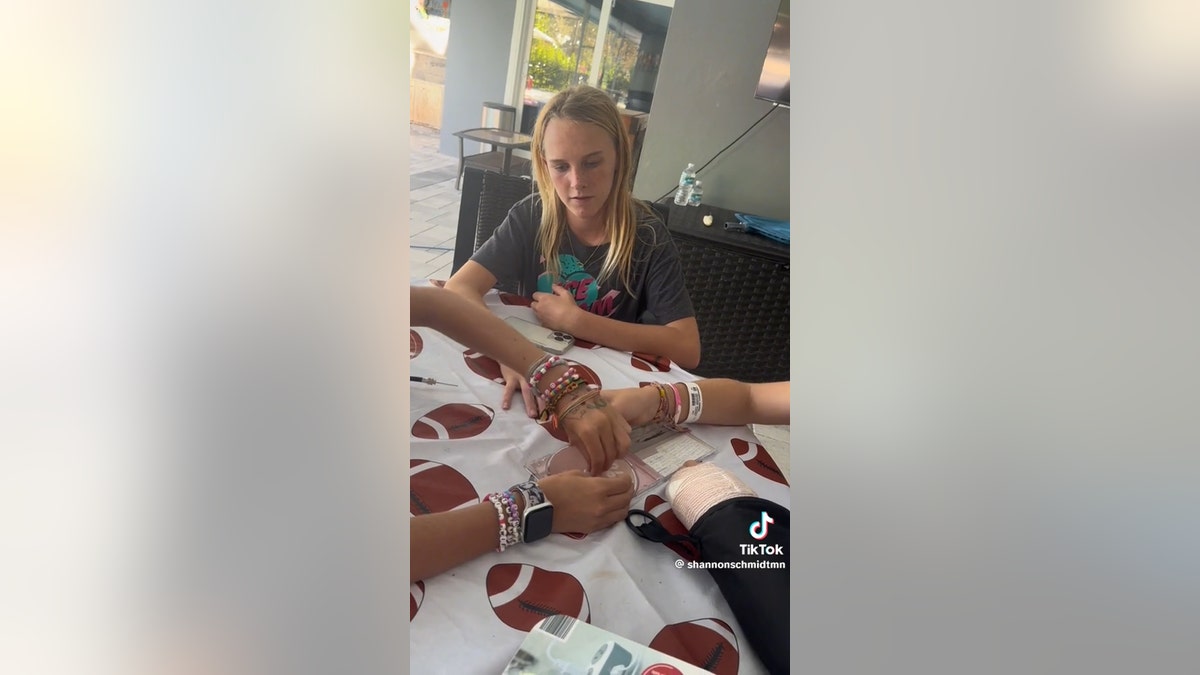 This hilarious moment not only brought laughter to the three moms, but to the scores of viewers who have seen the video on TikTok as well. 
Since it was uploaded, the video has garnered over 2.7 million views and 5,952 comments — one written by Taylor Swift herself.
"It's so wild to think our video went viral and got Taylor Swift's attention!" Lilly shared with Fox News Digital.
MOM GOES VIRAL ON TIKTOK AS 10-YEAR-OLD DAUGHTER STRUGGLES TO OPEN CD: 'I'M OFFICIALLY OLD'
"Going to her concert was amazing, but having her notice our video is something I still can't wrap my head around."
Annika said she never imagined that millions of people would have found the video so comical, let alone the "1989" singer herself.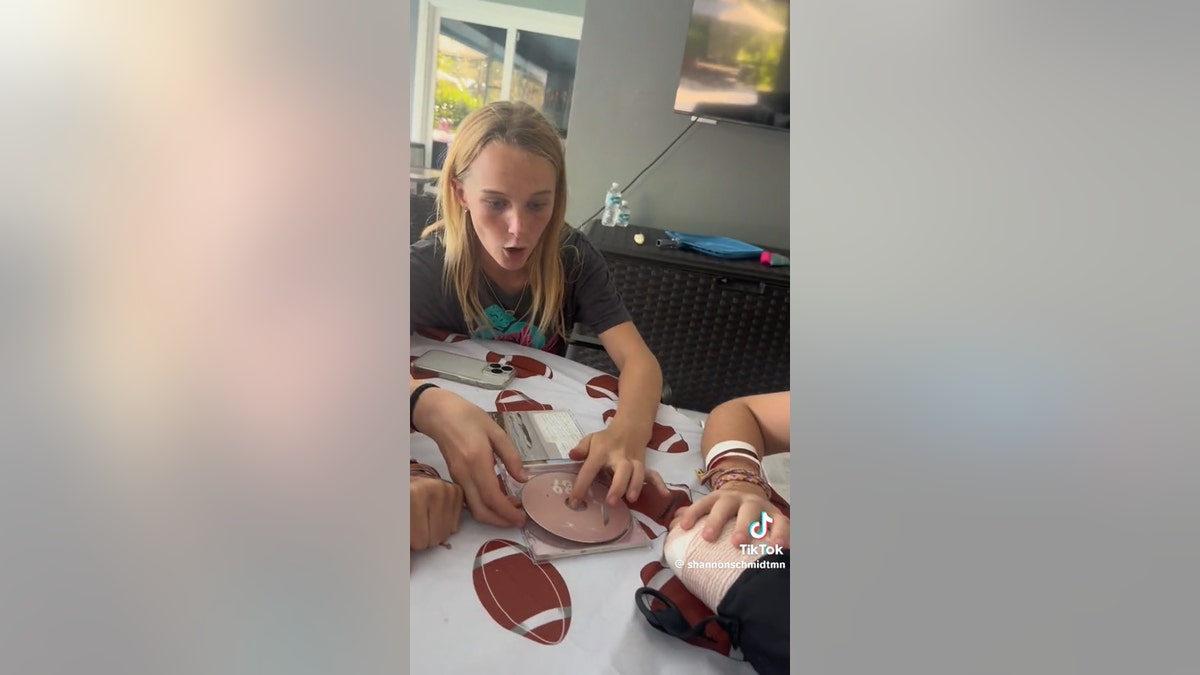 "Who would have thought that getting a CD while sporting a broken wrist would lead to something so huge?" Annika said.
"I figured maybe a few people would see our video, but then, bam —Taylor Swift saw it. She actually saw me and liked it. It's crazy." 
THE TAYLOR SWIFT OBSESSION: PSYCHOLOGIST WEIGHS IN ON WHY FANS WORSHIP CELEBRITIES
In a second video, the girls were captured using the CD player, which proved to be slightly easier to figure out.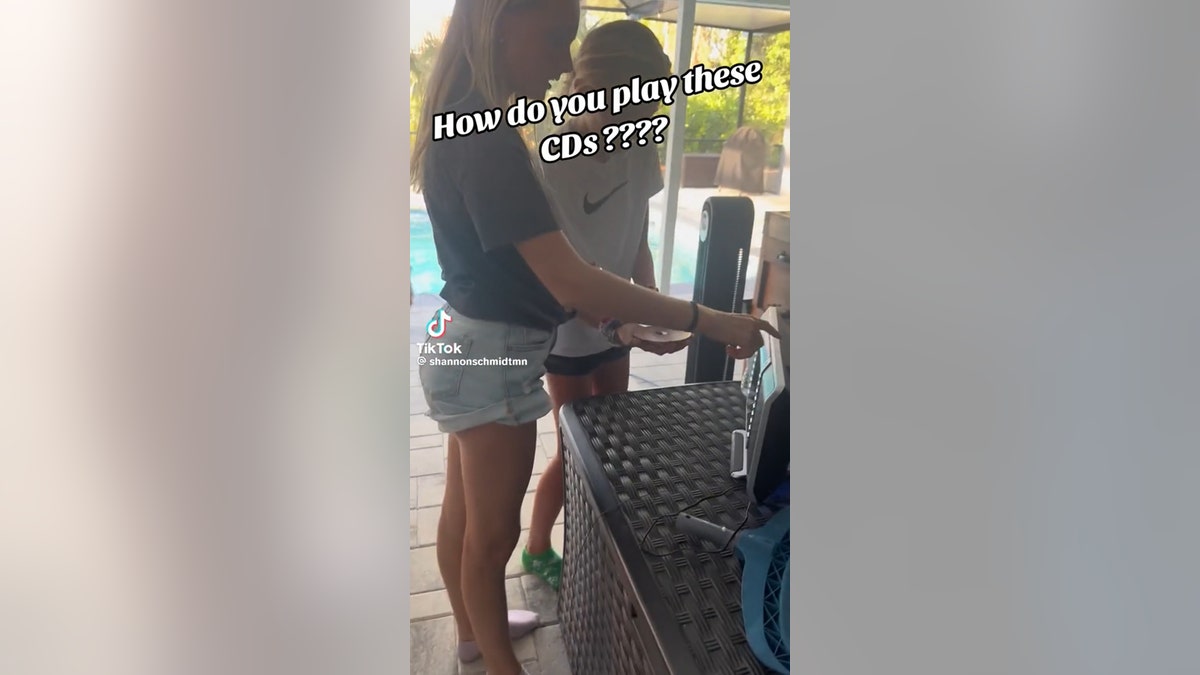 All three "Swifties" can be heard "oohing" and "aahing" as they learn how to open the disc player.
"Whoa! That was fancy, guys. This is a fancy one," one of the girls can be heard saying in the TikTok video.
TAYLOR SWIFT'S EXES: BABY NAMES INSPIRED BY THE SINGER'S FORMER FLAMES REVEALED
The Gen Zers captured the attention of viewers online who could not help but comment on the viral moment — and the overwhelming response was "I feel old."
But it was the comment from the A-list singer that really got the girls' attention.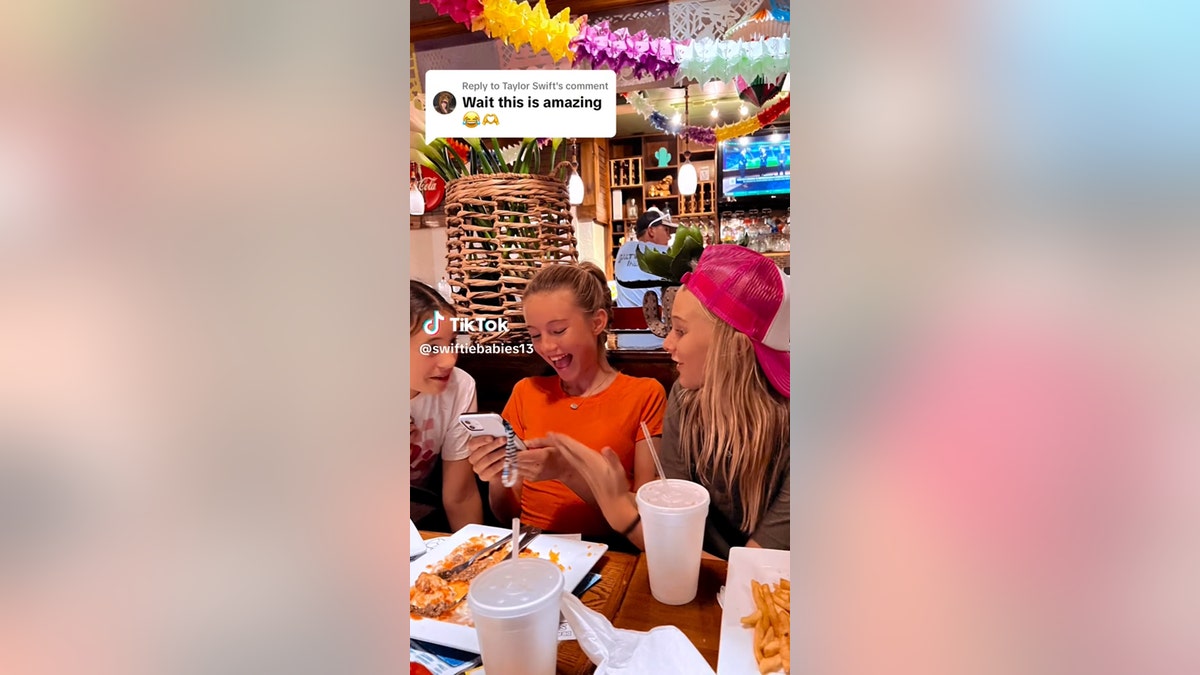 Swift liked and commented on the viral TikTok saying, "Wait, this is amazing."
"That was the best surprise ever — my year is made," Henslee told Fox News Digital in reference to Swift's comment.
TAYLOR SWIFT QUIZ! HOW WELL DO YOU KNOW THE FAMOUS POP MUSICIAN?
The girls usually can be found listening to Swift while making her popular friendship bracelets or playing soccer with one another.
"Her like/comment is something the girls and this Swiftie mama will always remember," Tia commented.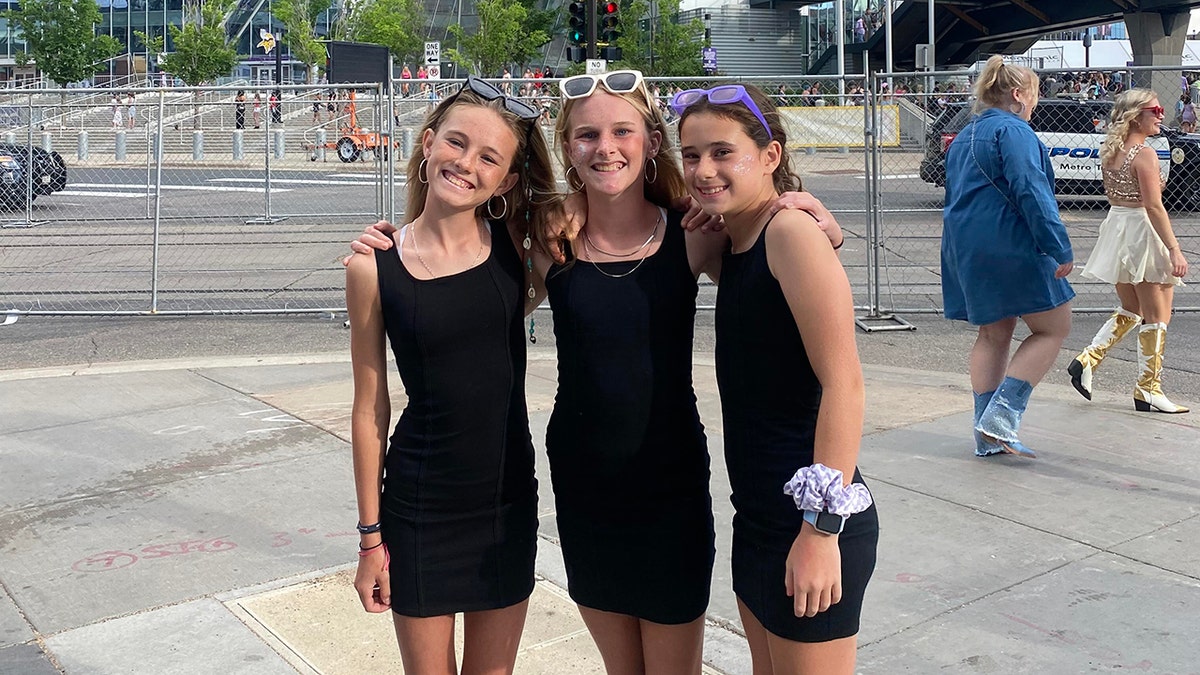 This isn't the first time a young person went viral for trying to open a CD. 
In May, Fox News Digital reported on a mom who showed her 10-year-old daughter's struggle as she attempted to pop a "Now That's What I Call Music! 21" CD (2006).
CDs were first introduced in 1982, according to the tech company Philips' website. 
Philips, along with Sony, co-developed the technology, which is a portable medium that can record, store and play back audio, video and other data in digital form.
In 2001, Apple introduced iTunes, a platform that sold digital songs online for just 99 cents each, according to the Smithsonian's National Museum of American History. 
iTunes made purchasing music so easy and affordable that it's virtually replaced the CD in 2023.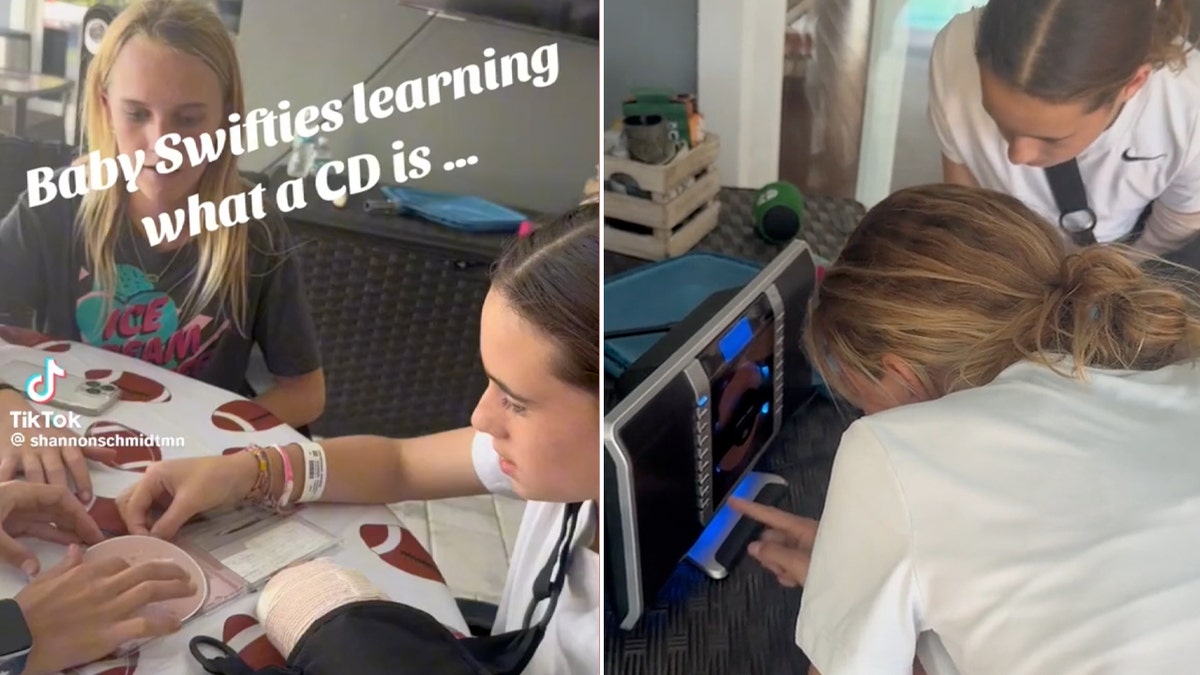 In the words of Taylor Swift, it is safe to say that "everything has changed" for these three "Swifties" since this viral moment.
"Their delightful encounter with a seemingly antiquated piece of technology, the CD, has captured the attention of Taylor Swift herself, transforming their genuine moment into an unforgettable event," Schmidt said. 
For more Lifestyle articles, visit www.foxnews.com/lifestyle.