A version of this story appeared in CNN's What Matters newsletter. To get it in your inbox, sign up for free here.
A judge in Colorado confirmed the feeling of many Americans when she ruled Friday, after hearing a week's worth of evidence, that by inciting the storming of the Capitol on January 6, 2021, President Donald Trump engaged in insurrection against the country.
But Colorado District Judge Sarah Wallace said that the "insurrectionist ban" in the Civil War-era 14th Amendment, which says American officials who take an oath to support the Constitution are banned from future office if they "engaged in insurrection," does not apply to presidents.
Expect appeals, potentially to the US Supreme Court, but Wallace's is the third court to allow Trump to remain on the state's 2024 primary ballot after judges in Minnesota and Michigan also rejected the insurrectionist ban argument.
The democratic reality of the American system is that much of the country, uninspired by the opposition, is perfectly willing to vote for a man who worked so hard to subvert a presidential election.
The next year is going to be a juggling act for the country, trying to keep up with both the pivotal presidential campaign and the many, many trials featuring the Republican front-runner, his personal actions, his officials actions, his incitement of the January 6 rioters and his overt attempt to overturn the election he lost.
This past week was a busy one in the courts, and not just in Colorado.
Trump wants cameras in federal election interference trial – Trump recently officially asked Judge Tanya Chutkan – the federal judge in Washington, DC, who is overseeing the election interference case brought by special counsel Jack Smith – to allow cameras to televise the proceedings.
Smith has argued against televising the trial, saying Trump would only use it as a media spectacle. It would be nontraditional, to say the least, for Chutkan to sidestep the official rules and allow cameras in the federal court.
"Let's let the public decide because I want cameras in every inch of that courthouse," Trump said at his recent New Hampshire rally. Chutkan on Friday denied Trump's request to scrub mentions of the January 6, 2021 riot at the Capitol from the indictment against him.
In addition to demanding cameras in the court, Trump also fought a gag order Chutkan placed on him. The gag order has been paused during an appeal. His lawyers argued in a court filing that the trial for interfering in the 2020 election is a form of election interference.
"The district court had no business inserting itself into the Presidential election," the Trump attorneys told the Washington, DC, Circuit Court of Appeals in a filing.
Prosecutors in Georgia asked for August 5 trial date, expect trial to drag past Election Day – The federal election interference trial is set to begin in March, around the time most primary voters take part in Super Tuesday. It could still conceivably conclude before Election Day. But the election interference trial in Georgia could theoretically be ongoing after Trump is sworn in as president should he win the Republican primary and then the election.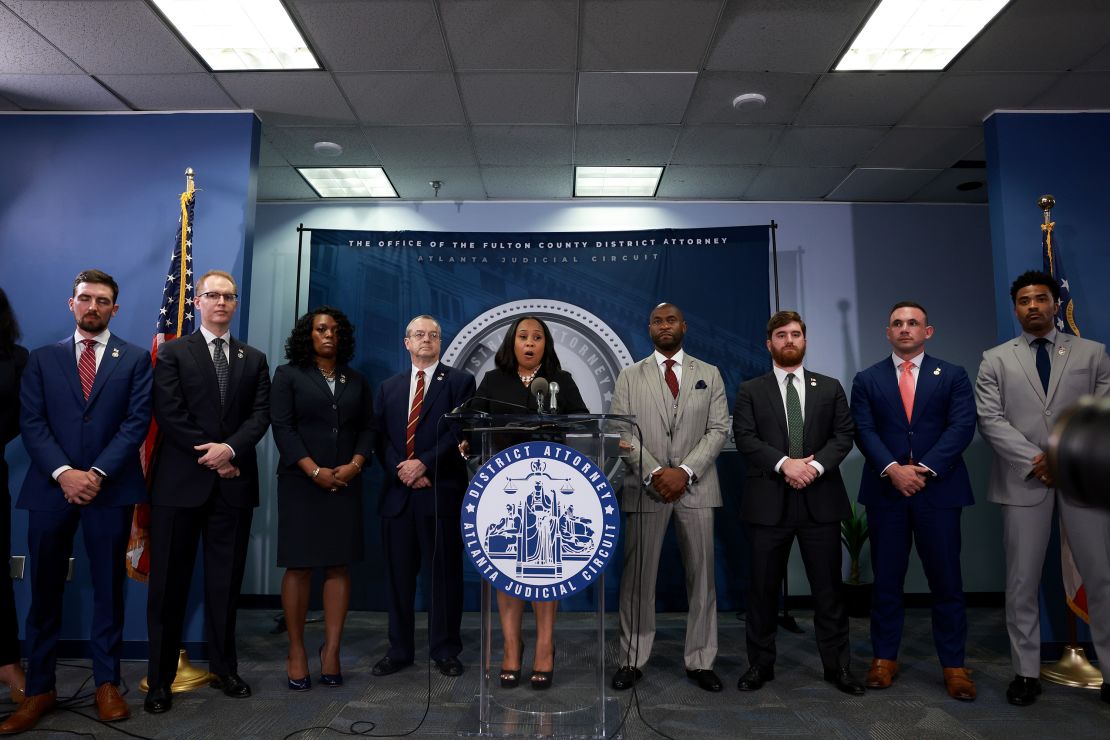 "I believe in that case there will be a trial. I believe the trial will take many months," Georgia's Fulton County District Attorney Fani Willis told The Washington Post, days before requesting the August start date. "And I don't expect that we will conclude until the winter or the very early part of 2025."
The final decision on timing is up to the judge in the case. But Willis has said the election should not interfere with the justice system.
"It would be a really sad day if when you're under investigation for this shoplifting charge you could go run for city council and then the investigation would stop," Willis said. "That's foolishness, and it's foolishness at any level."
Leaked video in Georgia – A separate issue in the Georgia case is that video of multiple defendants – who pleaded guilty – discussing facts of the case with prosecutors was leaked and published by news organizations. The video was part of discovery materials available to both prosecutors and Trump's defense team.
The leaked video, according to CNN's report, included some new details shared by former Trump attorneys who recently pleaded guilty, including Kenneth Chesebro, Sidney Powell and Jenna Ellis. The Fulton County district attorney's office filed an emergency motion for a protective order in an attempt to prevent other material from becoming public.
Classified documents trial still set for May – Immediately on the heels of the federal election interference trial in the spring, Trump's federal trial in Florida for mishandling classified documents is still on schedule for May.
That trial is being overseen by a Trump-appointed judge who, according to CNN's Katelyn Polantz, has at times seemed sympathetic to Trump's calls for a delay. However, Judge Aileen Cannon has stayed firm on the May date for now and recently said she will revisit the timing issue in early March.
Civil fraud trial – An appeals court judge in New York temporarily lifted the gag order placed on Trump during his ongoing civil fraud trial in Manhattan. Trump almost immediately began posting about the judge in the case, Arthur Engoron, and Engoron's professional clerk, around whom Trump has spun a conspiracy theory, saying she was "politically biased and out of control."
Former White House lawyer says this could land Trump in jail ahead of his trials
Trump's defense team began presenting its side of the case this past week, and kicked things off by bringing Trump's oldest son, Donald Jr., back to the witness stand.
In addition, Trump's team filed a quixotic motion for a mistrial in the civil case, arguing the judge and clerk are biased. On Friday, Engoron rejected that bid, saying the motion is "utterly without merit." The civil fraud trial is expected to wrap up sometime in December.
Hush-money trial – The other trial Trump faces in New York is the criminal trial brought by Manhattan DA Alvin Bragg over a hush-money payment scheme involving an adult-film actress. Trump's legal team abandoned its effort to move that trial to federal court.
His lawyers had also previously moved to have the hush-money trial dismissed, arguing it would interfere with the presidential election. Prosecutors responded this week, arguing Trump is seeking special treatment by using the political campaign as an excuse to escape accountability.
CNN's Kristen Holmes reports that Trump's second-term agenda would be more radical than his first on multiple fronts – and that Trump allies, including in an organized effort through the conservative Heritage Foundation, are preparing a raft of ideas Trump could impose swiftly through executive orders.
These include, according to Holmes:
Using the Justice Department for revenge – Trump has clearly said he would direct US government lawyers to pursue cases against people who oppose him. "If I happen to be president and I see somebody who's doing well and beating me very badly, I say go down and indict them," Trump told Univision.
Purging the federal bureaucracy – Trump's allies want to reclassify tens of thousands of federal workers as political rather than career public servants. In a March video, he promised to sign an executive order that would allow him to "remove rogue bureaucrats," particularly in the National Security and Intelligence spaces.
Hardline immigration policies – Large camps would need to be built to hold the undocumented immigrants that Trump envisions rounding up. He would also reinstate his travel ban on mostly Muslim countries and bring back the Covid-era immigration border policy based on the assertion that the undocumented carry other infectious diseases.
Drastic new domestic moves – Rather than commit to limited government, Trump envisions a broad effort to move the homeless out of US cities and construct tent cities overseen by government workers. He would impose new tariffs on foreign goods and also, somehow, use federal authority to give local police broad, new stop-and-frisk powers.
CNN's Arlette Saenz reports that President Joe Biden is beginning to hone his argument against Trump with forceful, off-camera statements, like one he gave at a fundraiser this week after Trump used the loaded term "vermin" to refer to political enemies.
At a private fundraiser in California, Biden read from a teleprompter when he described that as "language you heard in Nazi Germany in the '30s."
Perhaps some of those sharp critiques will find their way out into more public discourse next year, when Biden transitions from fundraisers to a campaign schedule.
Meanwhile, plenty of Americans do not appear motivated to vote based on protecting American democracy from Trump. Given his support in public opinion polls, about half the country may be willing to support Trump regardless of his efforts to overturn the last election or his antidemocratic pledge to use the judicial system to go after his enemies if he wins the next one.
Thus, Saenz reported, Biden's political team is also beginning to game out the policy argument against Trump.