The Georgia Bulldogs continue to roll as they attempt to become the first team since the 1930s to win three consecutive national championships. 
At 9-0, Georgia has now won 26 straight games and 36 consecutive games during the regular season. 
Despite not losing since December 2021, Georgia remains second in the College Football Playoff poll behind Ohio State, which was selected as the top team in the country for the second straight week. 
"The way this team has played, the way things have kind of happened over the last few years, it actually didn't bother me," former Georgia quarterback D.J. Shockley told Fox News Digital when asked about Georgia being ranked behind the Buckeyes. "Because as we know, the first ranking, the second one comes out, you have opportunities down the road to solidify as that No. 1 team."
NATIONAL CHAMPIONSHIP ODDS AS COLLEGE FOOTBALL SEASON REACHES WEEK 11
"So, I understand all the arguments that were going on with everybody else. I just felt like, in due time, the Dogs win, they'll be No. 1, and it's not a big deal about the first or second ranking. It's about where you end up obviously at the end of the season." 
Georgia's ranking behind Ohio State has to do with their schedule, which was not exactly a gauntlet in the first two months of the season. 
But as the calendar has flipped to November, Georgia's schedule has stiffened, with three consecutive games against ranked opponents. 
The Bulldogs passed their first test in Week 10, defeating No. 12 Missouri, 30-21, and now prepare for No. 9 Ole Miss on Saturday. 
Shockley told Fox News Digital that he believes the Bulldogs are playing their best football as the final weeks of the regular season tick down.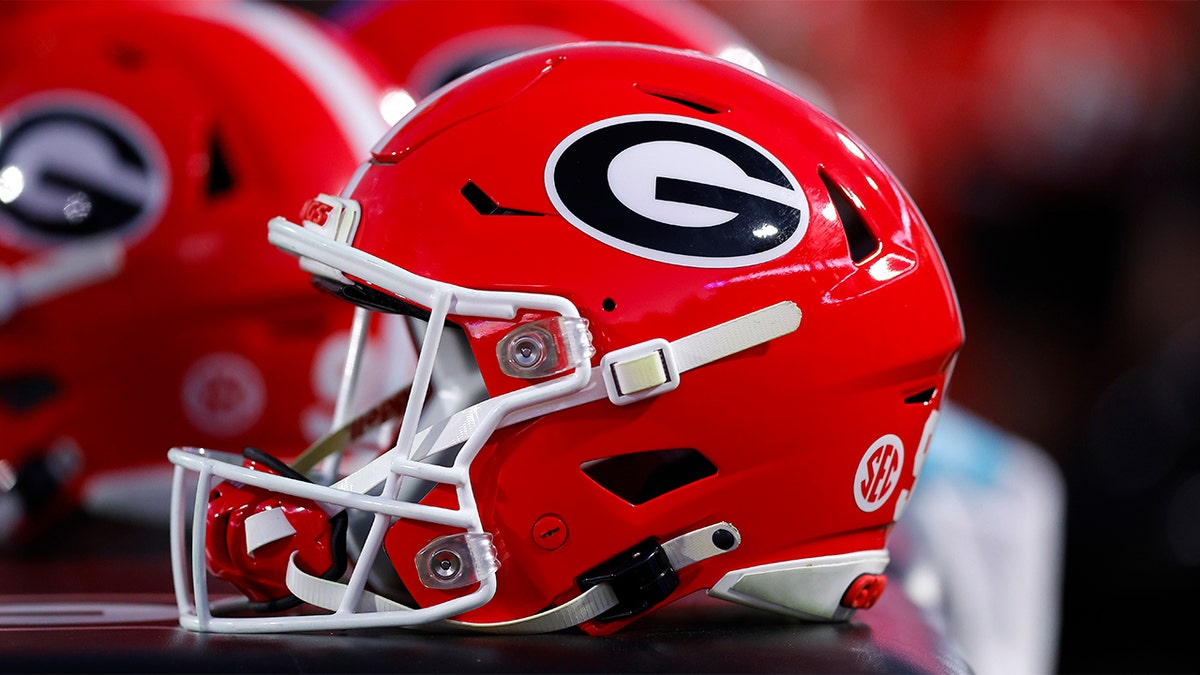 "I get the opportunity to be around this team," Shockley said. "I get the opportunity to see Kirby [Smart] pregame, at halftime when they're making adjustments. So, I have a different view of how this team goes about their business. And in talking to a bunch of coaches, since their bye week heading into the Florida week, they said it had been their best weeks of practice that they've had leading up until what is now." 
WHAT FANS LEARNED FROM A 'STATEMENT SATURDAY' OF COLLEGE FOOTBALL: DON'T DOUBT NICK SABAN
Shockley, now the sports director at Fox 5 Atlanta and a sideline analyst for the Georgia radio broadcast, pointed to other players stepping up in the absence of star tight end Brock Bowers, who underwent surgery in mid-October after suffering a high ankle sprain against Vanderbilt.
"I just think from the mental to the physical part of it, this team is hitting their stride at the right moment and playing, I think, some of the best football that they've played all year," Shockley added. "And they're doing it at the right time, when you're facing all these top-ranked opponents, and you're playing in the time of the year when you have to play your best football. And I think, down the stretch, they've been doing that."
Georgia's offense has continued to be successful despite the departure of Stetson Bennett as junior quarterback. Carson Beck has stepped in and led the sixth-best unit in the country over the first 10 weeks of the season.
The Bulldogs have gone about the offense in a slightly different fashion, depending more on the passing game than they have in previous seasons. 
The 2022 Georgia team ran for 205.3 yards per game while the current edition is down to 167.7 yards per contest.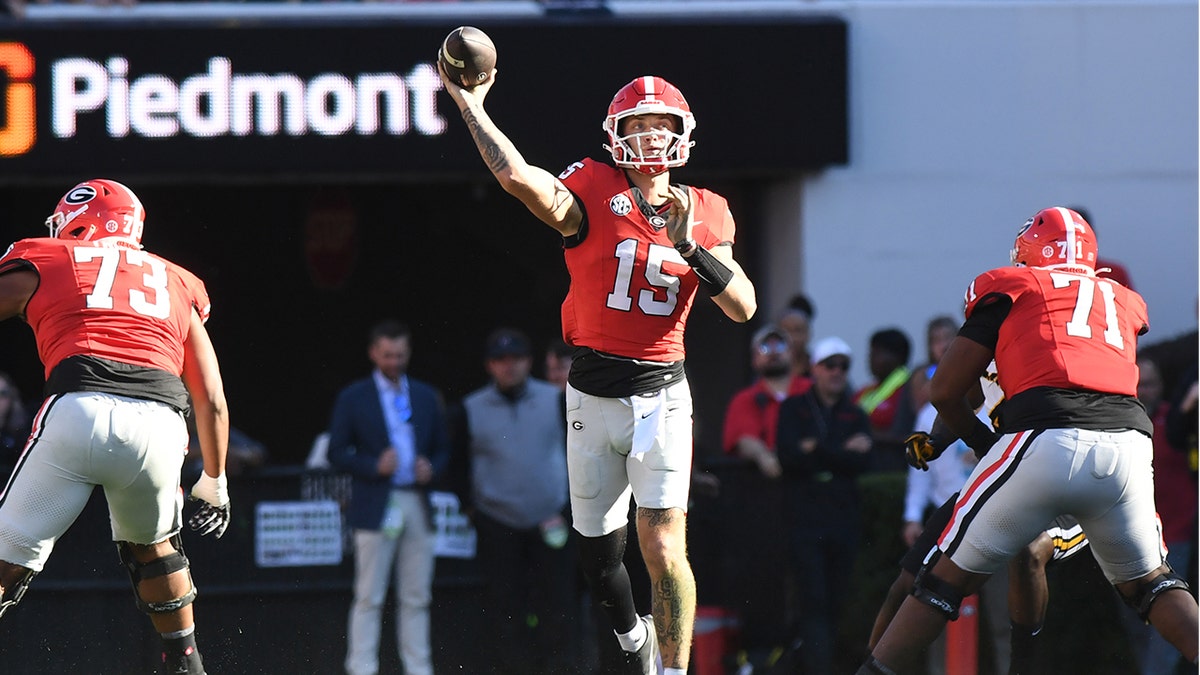 "I think the biggest difference is this team this year is not as dominant running the football as they've been the last few years," Shockley told Fox News Digital when discussing Georgia's offense in 2023 compared to previous teams. "And you look back to all the years at UGA, it's always been 'Running Back U.' From [Todd] Gurley to Sony [Michel] to [Nick] Chubb, even Kenny McIntosh last year when they really went back and gave them that threat."
"I think this year, you come into the year, Daijun Edwards was hurt for the first three ballgames, Kendall Milton was banged up, but he still played. So, you haven't had that guy who solidified that spot, and you felt like you've been just the more dominant team. Now, you've been more dominant down the stretch when it comes too late in the fourth quarter when you need to run the football, you've done that. 
"But I think you come into this year's team, and you say this is a team that is led by Carson Beck. This is a team that is led by the passing game. And over the years, it's been the total opposite."
Georgia welcomes Ole Miss to Athens on Saturday for a primetime matchup at Sanford Stadium as Lane Kiffin looks for a signature win. A Georgia victory secures a third straight SEC East title for the Bulldogs.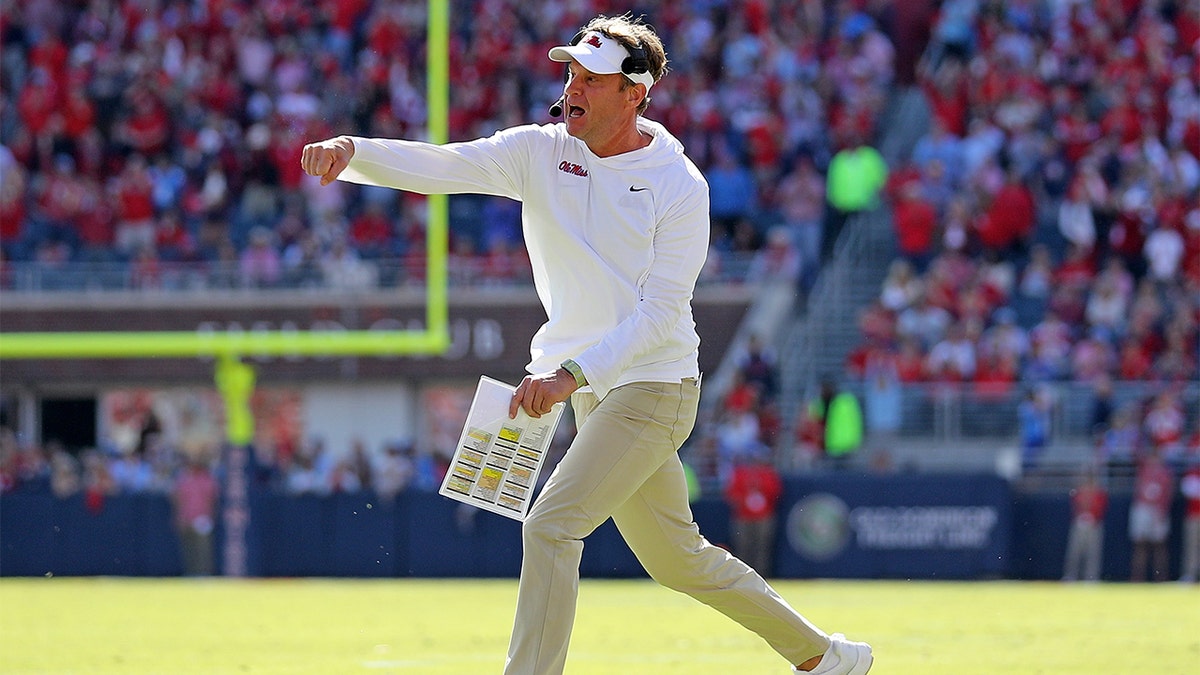 The Rebels have won five straight games since losing to Alabama in Week 4 and possess a balanced offensive attack with Jaxson Dart under center, averaging the third-most points per game in the SEC.
"You just look at the balance that they have. And I think over the years, or even this year, people have always thought of Lane Kiffin and Ole Miss as this team that just loves to chuck it and throw it. But you look up, you start having a deeper dive, and this is a team that [has] more dominated in the run game," Shockley said.
"Their rushing stats are pretty outrageous. They actually have more attempts in the run game than they do in the pass game. [Quinshon] Judkins has 12 touchdowns on the year. Dart has over 300 yards rushing. He has seven touchdowns. It tells you that you have a quarterback and you have a running back that can get it done. And that's the thing that scares you."
Ole Miss is 1-15 all-time when facing a team ranked No. 1 in a major poll, according to the Associated Press. Georgia has been the top team in the AP Poll for the past 21 straight weeks.