A concealed carry holder in Los Angeles who was forced to defend himself and his family in a terrifying shootout at his front door is demanding LA leaders prosecute criminals terrorizing law-abiding residents. 
"Every single person that I know has gotten stuck up," LA entrepreneur Vince Ricci told Fox News Digital this week. "It's not normal." 
Ricci said he was returning to his gated Los Angeles home Saturday evening after hitting the gym when two armed men jumped his fence and tried to force their way into his home. 
"Out of nowhere, boom, I had a gun to my back. And there was another guy running up at the same time and I couldn't really make out what he was saying," Ricci said recounting the terrifying incident. 
WOULD-BE BURGLARS ARMED WITH 'BILLY CLUB' PICK THE WRONG FARMER TO TRY TO ROB: 'I WILL SHOOT'
The attempted home invasion unfolded just before 7:30 pm, when Ricci's wife, her friend and the family's nanny were inside the home cooking dinner and putting Ricci's nearly 5-month-old daughter to bed. 
Security footage captured the entire frightening scene and has since racked up thousands of views on social media. 
ALABAMA TRACTOR SUPPLY CUSTOMERS THWART ALLEGED SHOPLIFTERS, OPEN FIRE ON GETAWAY CAR'S TIRES
The Los Angeles entrepreneur said he was leisurely walking to his front door while listening to an audiobook that had captivated his attention when he noticed the men approaching him. 
The video shows Ricci holding a cup of hot tea while digging out his keys from his pocket before a man wearing a hoodie and aiming a gun ran up to the homeowner. Ricci, who noted his tea was too hot to drink at the time, is seen walloping the man in the face with the beverage before pulling out his own firearm. 
"It was burning my hand and I couldn't wait to go into the house and put honey in the tea so I could drink it," the homeowner said. "I f—ing slammed him in the face [with the tea]."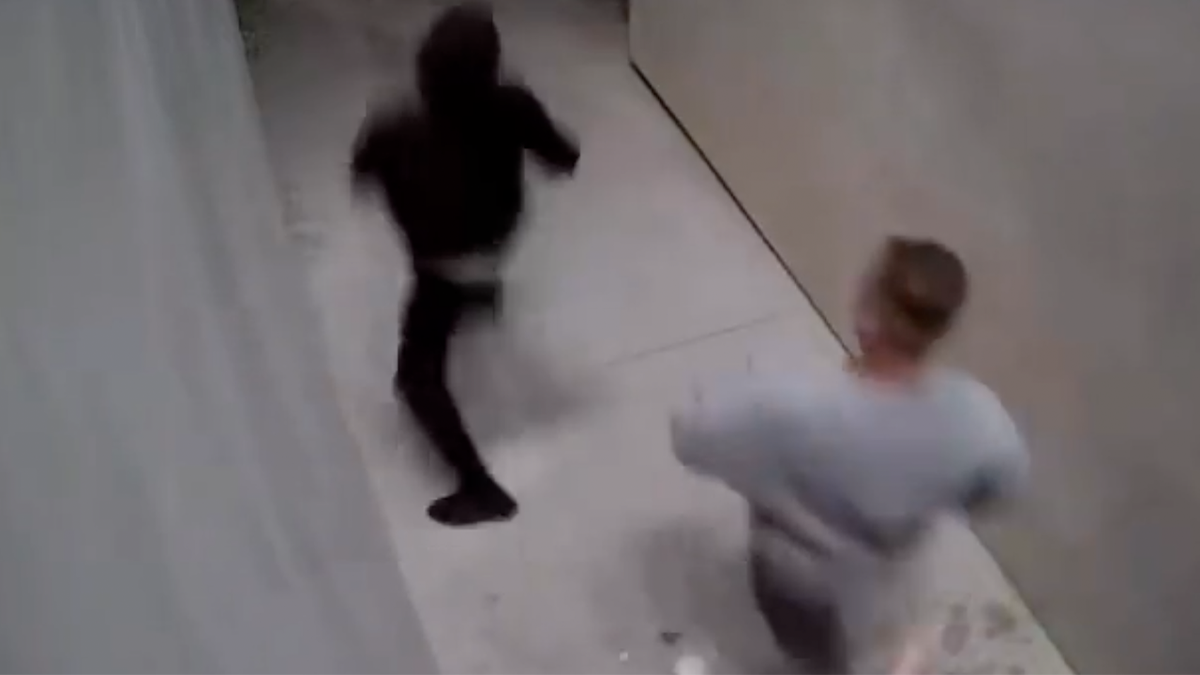 Ricci is a concealed carry holder and immediately grabbed his firearm to subdue the suspect. He credited his quick-thinking to years of boxing, explaining he is not "John Wick, but I can handle myself decently well."
WOMAN LEANS OUT PASSENGER WINDOW WITH AK-47 IN SAN FRANCISCO
"As I went to grab the gun, he turned and he's holding my sleeve – I think so I wouldn't hit him – and when I went to go get the gun, I shook him off. He backed up and went to turn around, and I charged at him to grab him," he said.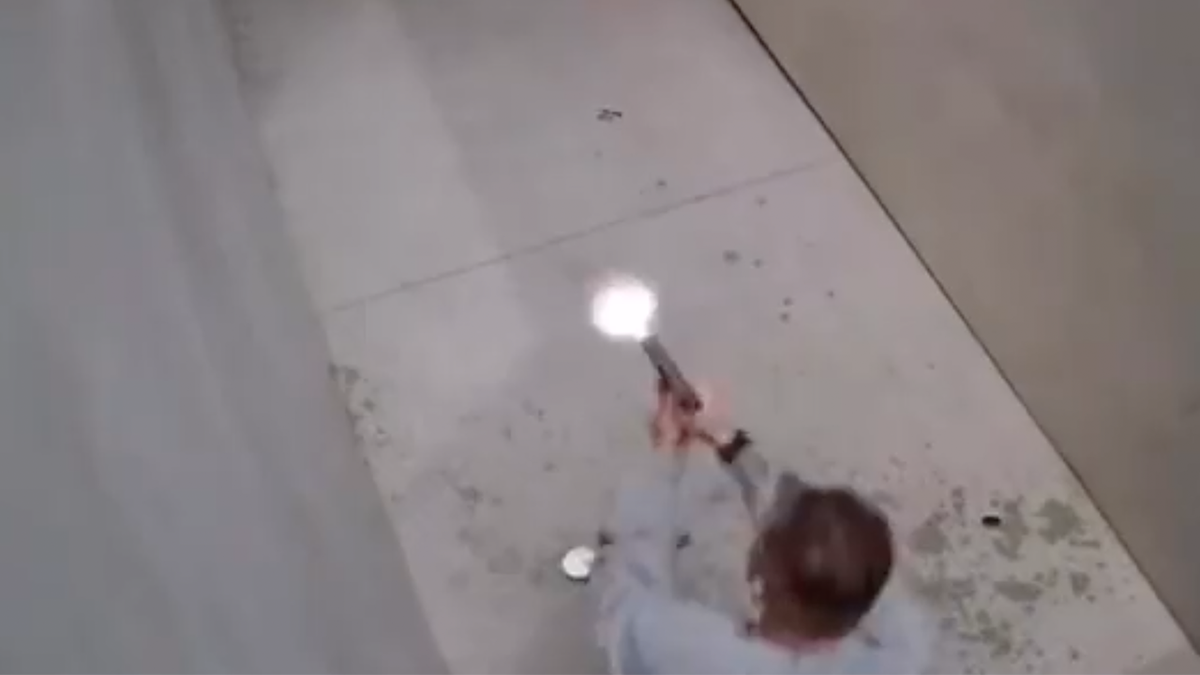 The other suspect, however, was pulling out his own firearm and "squared off" for a gun fight, Ricci said. 
"At that point. I knew I was getting shot by the other guy and I couldn't see who else was coming in. And this kid was also turning back around with a gun pointed back at me, and I just started firing and they both started firing," he said. 
Ricci described the two suspects as males likely in their early 20s. He also noted that the corridor to his front door appears large in the video, but that he and the suspects were just feet from each other in an area that is only five-and-a-half feet wide.
PHILADELPHIA WOMAN OPENS FIRE ON TEAM OF BURGLARS CREEPING AROUND APARTMENT: POLICE
A different view of the footage from the home's gated driveway shows the suspects retreating from Ricci's gunfire, with one jumping over a fence, and the other running around a car on the driveway. 
"The one kid shot one, the other kid shot twice. And then after that, they hopped over the fence, they continued to keep shooting at me," he said. 
Ricci said that his home has previously been targeted by criminals, including in June when burglars broke into his residence and that his car was broken into a few months before the June robbery, he told Fox News Digital. 
Ricci said a group of criminals has been targeting homes in his neighborhood, explaining they drive a Dodge Charger with no license plate and had targeted his neighbor the night prior to the shootout.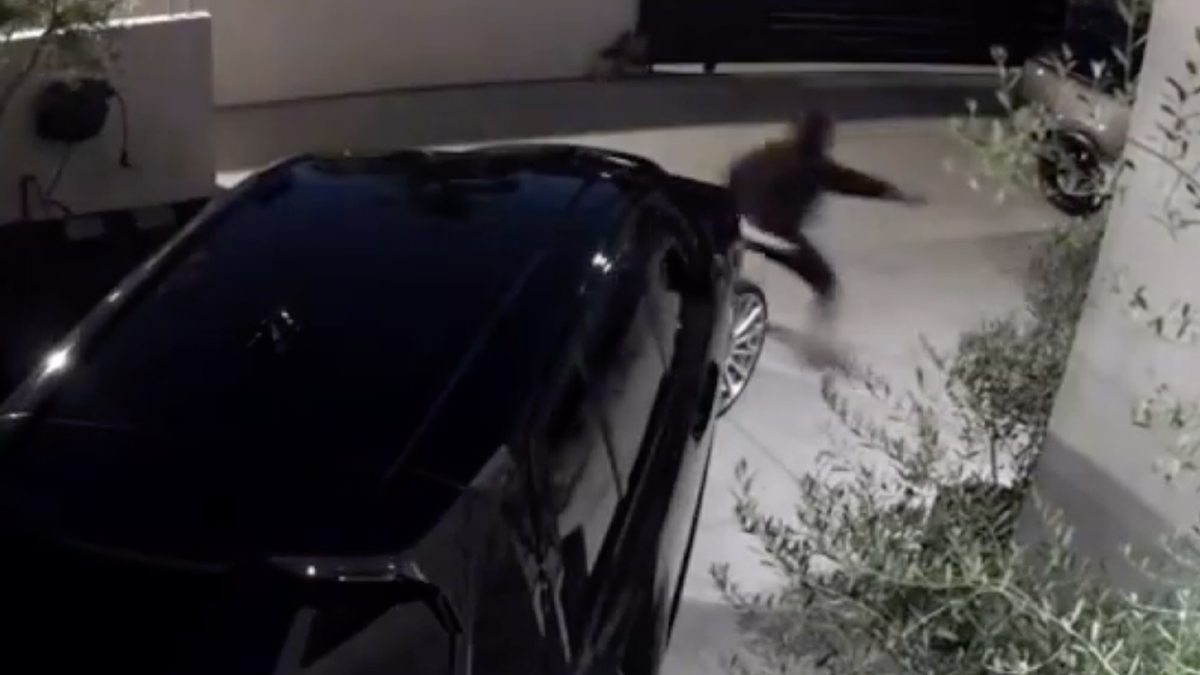 The homeowner said that if it was not for his gun, he and his family could have easily been killed. 
"It saved our lives," he said. "I'm a tough guy … but there's only so much I could do against a gun. They would have pistol-whipped me, they would have pistol-whipped my wife. They would have come in the house and there's nothing in my house."
He said he and his wife speculated that if it were not for the gun, the suspects would have made entry, found nothing of great value to steal and potentially "tortured" the young family. 
He said living in a liberal city, some might try to discredit and "crucify" the legal gun owner, instead of authorities arresting and convicting the would-be intruders.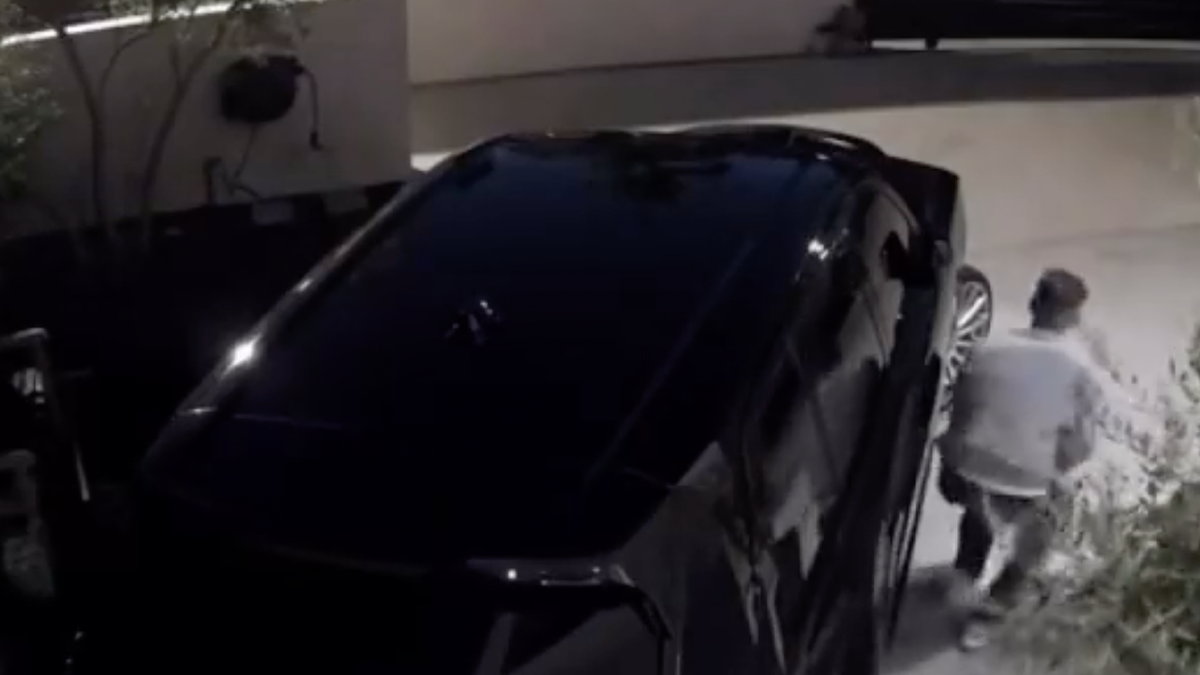 "I know I didn't do anything wrong, because I had two chances I could have shot both kids in the back. I chose not to do it. But in the video, it looks like 'oh, they were running away.' They weren't running. They were firing back at me," he said. 
He lamented that the LAPD carried out "sloppy police" work when he filed a report, including not picking up the casings scattered near his home. 
"I almost couldn't believe it, the sloppy police work they did. There's a couple of them that care … There's a handful of real cops, and then there's the rest of them," he said. 
He is calling on the LAPD to arrest the criminals and that progressive Los Angeles District Attorney George Gascon stop "picking the wrong people to go after" and to charge the criminals who have targeted him and others across LA on a daily basis. 
"This Gascon is screwing [the cops] so much, that he's not gonna to take up the case either way. Even if they find these kids … Gascon's not gonna to care they were shooting at some White guy," he said. 
Ricci is originally from the Bronx in New York and said the repeated crimes he has had to endure in LA has forced him to reconsider staying in the city, and even the state. 
CLICK HERE FOR MORE US NEWS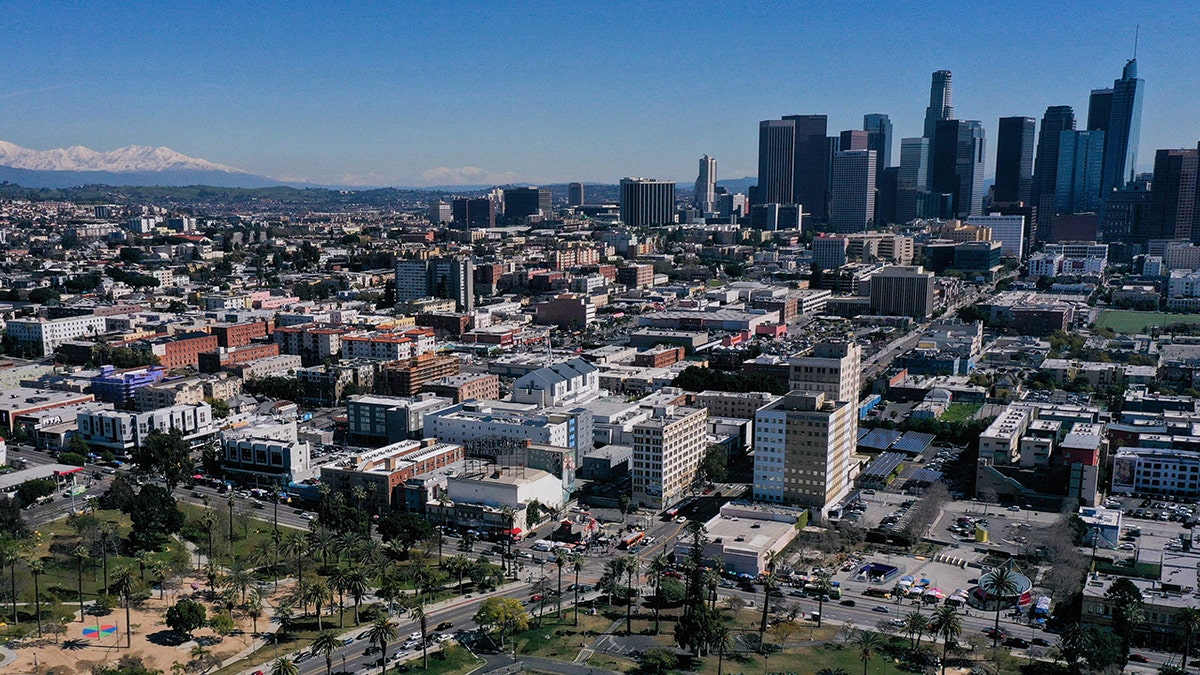 "I came here for a better life. I don't want to run out of fear, but I'm not gonna stubbornly keep my family here if it's not safe," he said, noting his wife has been traumatized by the incident and the possibility that Ricci could have died instead of chasing off the suspects. 
CLICK HERE FOR THE FOX NEWS APP
"This is not normal. This isn't worth it. I'd rather just go back to living in an apartment building in the Bronx. This would never happen there," he said.