An Arkansas father is facing felony charges after he allegedly hid his 5-year-old daughter in a cramped compartment concealed by a false wall in the back of a closet with only a blanket and a burning candle.
Body camera footage captures the moment Jon Thompson, 40, escorts police to the master bedroom's walk-in closet, removes a large pile of clothing and boxes and calls out to his daughter.
"Hey baby, here now," he says as he rips off the false wall nailed to the wall and lifts the terrified little girl into his arms.
"She came out, and she was crying. She was scared," Det. Keith Lindley, of the Tontitown Police Department in northwest Arkansas, told Fox News Digital. 
DRUNK STRIPPER GETS FRISKY WITH COP IN AWKWARD TRAFFIC STOP: VIDEO
Police were dispatched the afternoon of Nov. 1 to Thompson's parent's house to assist the Department of Human Services in taking custody of his daughter with a court order. 
He had been granted temporary custody Oct. 24, but he failed to comply with regular drug testing, according to Lindley.
"I understand the pain a grown man would have about losing his child … but, at the end of the day, there is a 5-year-old nailed inside a hole in a closet with a burning candle surrounded by pink insulation."

— Det. Keith Lindley told Fox News Digital
In addition, a follicle of the little girl's hair tested positive for methamphetamine, the detective told Fox News Digital.
When officers arrived, they heard a banging that they later surmised was Thompson hammering the drywall over the compartment.
Thompson was initially uncooperative with police, but they eventually convinced him to take them to the child and turn her over.
The officers were so astonished by where he'd hidden the little girl they reached out to the prosecuting attorney to build a case. 
DISTURBING BODYCAM VIDEO SHOWS FATHER FREE DAUGHTER FROM HIDDEN COMPARTMENT BEHIND CLOSET WALL
Investigators interviewed the child, who said that she was "afraid to go inside the hole in the wall but that her dad wanted her to." He allegedly told her that if she didn't, she'd be taken away from him.
"She described it as small and dark and demonstrated having to sit cross-legged as she could not stretch her legs out," according to a police report. 
The girl said it was the first time she'd ever been in the compartment, which her dad allegedly told her was a "super hideout."
Once inside, she had to go to the bathroom and "tried to ask to be let out but no one let her out," the police report says.
'BIZARRE BEHAVIOR' TIP LEADS TO RESCUE OF 8 ABDUCTED CHILDREN: POLICE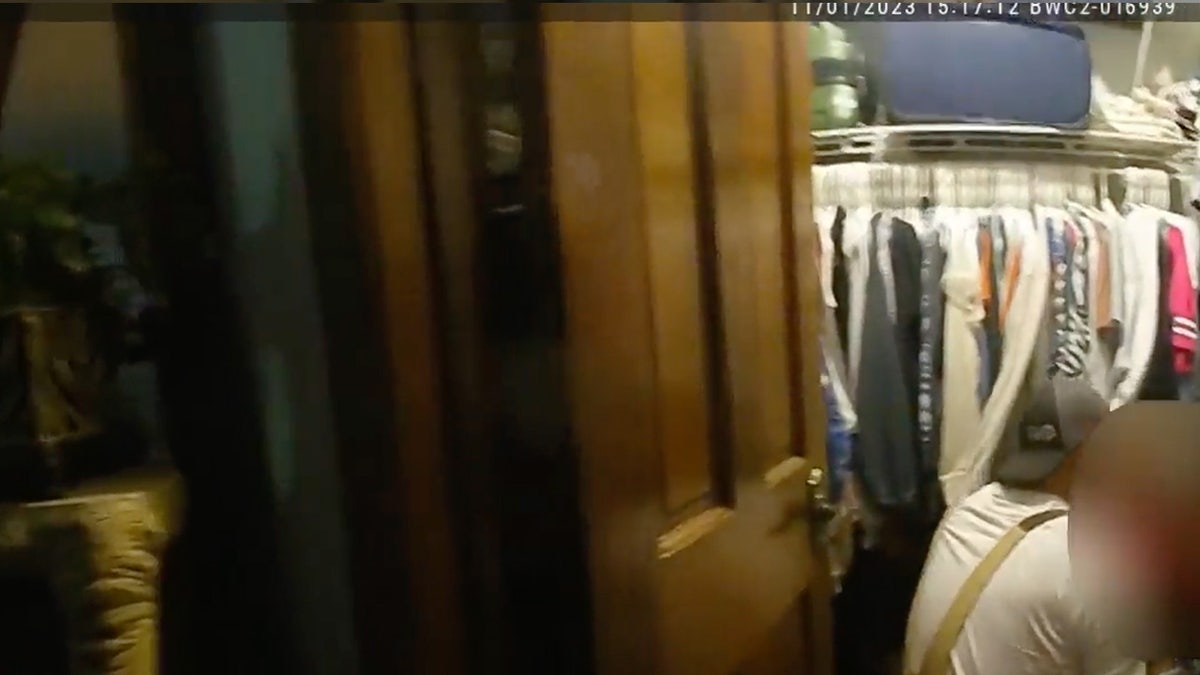 She was trapped in the confined space surrounded by flammable pink insulation with a burning candle for about an hour, Lindley said.
The girl, who is estranged from her mother, has since been placed in a foster home.
On Nov. 3, police arrested Thompson on charges of false imprisonment, endangering the welfare of a minor and interference with child custody. 
A search warrant was executed on his parents' home, and police recovered a bullet-resistant vest in the compartment where the girl had been hidden. 
"I understand the pain a grown man would have about losing his child because of his own poor decision-making, but, at the end of the day, there is a 5-year-old nailed inside a hole in a closet with a burning candle surrounded by pink insulation," Lindley told Fox News Digital. "We believe these actions on their own are criminal in nature."
Fox News' Julia Bonavita contributed to this report