Surveying the damage in Rafah
A young girl rides on top of a bicycle as she stares at the destruction in the aftermath of an Israeli strike in Rafah, southern Gaza today.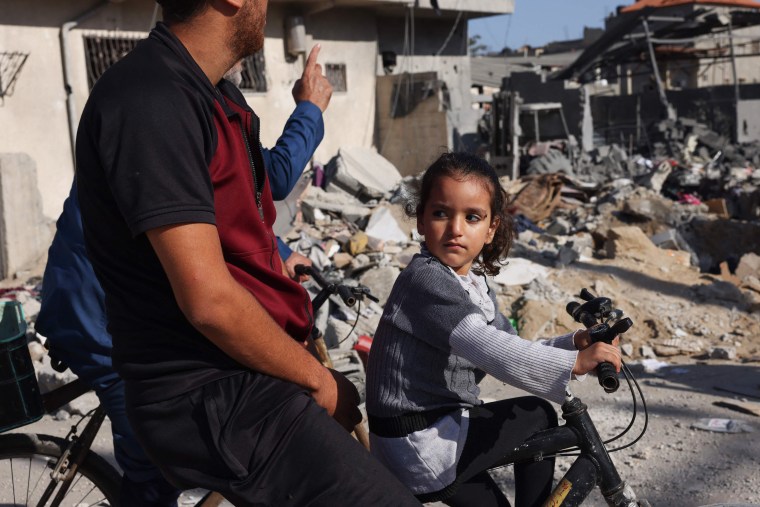 Harvard shares plan for combating antisemitism after criticism
Harvard announced plans for fighting antisemitism on campus after intense criticism from students and alumni over its response to the Israel-Hamas war.
Prominent alumni have threatened to cut off donations, citing a letter signed by more than 30 student groups that blamed Israel for the Oct. 7 terrorist attack by Hamas, as well as video of a pro-Palestinian protest at Harvard Business School on Oct. 18 that appeared to show a Jewish student being harassed.
In an email to the Harvard community yesterday, President Claudine Gay said the school would implement a "robust program of education and training" for students, faculty members and staff on antisemitism at Harvard and beyond.
"As part of this program, we will provide education about the roots of certain rhetoric that has been heard on our campus in recent weeks, and its impact on Jewish members of our community, to help us all better recognize antisemitism in daily life and interrupt its harmful influence," she said.
Israeli tanks seen near children's hospital in Gaza City
Multiple tanks can be seen in the vicinity of Gaza City's Rantisi Specialist Hospital, in videos posted to social media and geolocated by NBC News.
The videos show two tanks stationed in destroyed alleys, indicating the advancement of Israeli troops deep in the city. Witnesses told an NBC News crew that military vehicles were seen about a half a mile away from the Al-Shifa medical complex, also in Gaza City.
"The occupation is present in the vicinity of the hospitals square in central Gaza and is demanding its evacuation," the Hamas-run government media office told NBC News. NBC News has reached out to the Israel Defense Forces for comment.
The reports of Israeli ground forces in the vicinity of the hospitals came after local health officials reported bombardment in the area left multiple hospitals damaged. Gaza health ministry spokesperson Ashraf Al-Qudra said the attacks had not stopped all morning, causing a "major disaster."
More than 50,000 Gazans flee south again, U.N. says
More than 50,000 people left northern Gaza yesterday, fleeing south via a humanitarian corridor along the main traffic artery, Salah Ah Deen road, according to a report from the United Nations Office for the Coordination of Humanitarian Affairs.
Most of the people evacuated via foot or donkey carts, the report, published today, said. It added that "most were able to carry only few personal belongings."
The corridor will remain open today from 10 a.m. (3 a.m. ET) to 4 p.m, Avichay Adraee, a spokesperson for the Israeli military wrote on X in Arabic, adding that northern Gaza was a "fierce combat zone."
War is costing more than expected, Israel's central bank chief says
War with Hamas is costing Israel more than expected, its central bank chief said, describing it as a "major shock" to the economy.
Though the Israeli economy is strong and stable, "there is no doubt the war will have fiscal implications and generate budget pressures," Bank of Israel Governor Amir Yaron said yesterday at an International Monetary Fund conference in Washington.
Israel's gross domestic product growth is likely to shrink about 1% in 2023 and 2024, Yaron said, while the debt-to-GDP ratio is likely to rise above 65% by the end of 2024, compared with just under 60% before the conflict began, "as costs are larger than was initially projected." He said the estimates were based on the war remaining concentrated at Israel's southern border and lasting until the end of this year.  
"The Israeli economy has known how to function and to recover from difficult periods in the past and to return to prosperity rapidly," Yaron said. "I have no doubt that the same will be the case this time."
IDF says it killed several top Hamas commanders
The Israel Defense Forces said this morning its troops had killed three top Hamas commanders who were part of the Oct. 7. attacks.
Ahmed Musa, a company commander and Omar Al-Hindi, a platoon commander, were located in western Jabaliya, the IDF said today, adding Mohammed Kahlout, the head of a sniper array, was also killed.
"Furthermore, IDF troops struck a shipping container located at a beach, containing approximately 20 rocket launchers," it added.
NBC News has not verified the claims.
International travel demand has fallen since Israel-Hamas war began, data shows
International flight bookings around the world have fallen since the onset of the Israel-Hamas conflict, especially in the Americas, as people cancel trips to the Middle East and around the world, according to travel analysis firm ForwardKeys.
"This war is a catastrophic, heartbreaking, human tragedy that we are all seeing daily on our TV screens," Olivier Ponti, vice president of insights at ForwardKeys, said in a statement. "That is bound to put people off (from) traveling to the region, but it has also dented consumer confidence in traveling elsewhere too."
In the three weeks after the Oct. 7 terrorist attack on Israel by Hamas, international flight bookings from the Americas dropped 10% compared with the number of tickets issued in the three weeks before the attack, according to flight ticketing data from the firm.
International flight bookings fell 5% across regions on average, impacting the global rebound in international travel from the pandemic.
A boy searches through the rubble of a home in Khan Younis today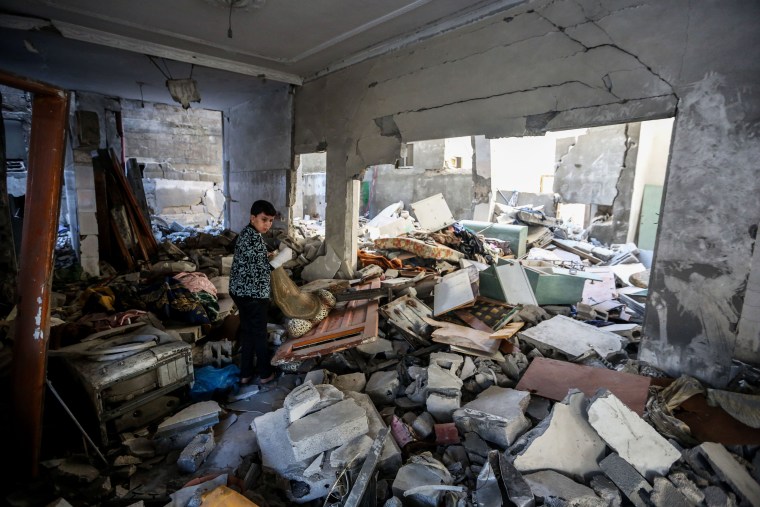 'We don't seek to occupy' Gaza, Netanyahu says
Israeli Prime Minister Benjamin Netanyahu said in an interview Thursday, "we don't seek to govern Gaza, we don't seek to occupy" but that he is committed to destroying Hamas.
"We're going to continue until we eradicate Hamas. Nothing will stop that," Netanyahu said in an interview on Fox News.
Netanyahu did not give an estimated time for the military offensive against Hamas in Gaza to last. "I've set goals. I didn't set a timetable, because you know, it can take more time. I wish it will take little time," he said.
Netanyahu said in an interview with ABC News this week that Israel would have "the overall security responsibility" for Gaza for an indefinite period after the war. Secretary of State Antony Blinken said subsequently that it was clear that "Gaza cannot be continued to be run by Hamas," but that "it's also clear that Israel cannot occupy Gaza."
A look at NBC News' latest coverage on the Israel-Hamas war