Inert grenade found at Holocaust Memorial Park, Central Synagogue cleared after bomb threat, NYC police say
Police in New York City responded to separate incidents at Holocaust Memorial Park and Manhattan's Central Synagogue on Saturday.
Just before 10 a.m., officers were called to the park and saw a "grenade inside the pond," the NYPD said. The bomb squad was called and determined that it was an inert grenade that cannot explode. Police said the scene was cleared. It's not clear how long the grenade was in the pond, authorities said.
Less than an hour later, police were called to the synagogue for reports of bomb threats to the building, the NYPD said. It was reported that two bags were "going to explode" but nothing was found during a search, according to NBC New York.
"Police quickly surveyed the area and there was a negative result," authorities said.
Police officers arrested dozens of counterprotesters after scuffles erupted alongside a pro-Palestinian march in central London. Many counterprotesters mainly opposed the march's timing, as Saturday is Armistice Day in Britain — the anniversary of the end of World War I.
Netanyahu says Israel will 'control security' in Gaza after war
Israeli Prime Minister Benjamin Netanyahu said at a news conference that Gaza will be demilitarized after the war and Israel will "continue to control security there."
Netanyahu says there will be no cease-fire before all hostages are returned
Israeli Prime Minister Benjamin Netanyahu reiterated there will be no cease-fire before all hostages are returned and again called for the elimination of Hamas.
"To the leaders of the Arab countries … I would like to say one thing: You must stand against Hamas," he said during a news conference Saturday.
Netanyahu said Israel was "fully prepared" on the northern front and will continue with "full force." He also thanked ally counterparts for their support.
"Our war is your war, and this war we must win," he said. "In any case, I would like to say no international pressure, no false accusations against our soldiers, our army, or our country will deviate us from our right cause and our right to defend ourselves. … Citizens of the state of Israel, today all of us are united."
He continued: "We understand basic fundamental things: If you want peace, we have to eradicate Hamas. If you want security, we need to eliminate Hamas. If you want to secure the future of the state of Israel, then you have to eliminate Hamas. This is what Israel must do, and this is what Israel will do."
U.K. prime minister condemns 'wholly unacceptable' actions by 'Hamas sympathizers' at march
The U.K.'s Prime Minister Rishi Sunak condemned what he called the "violent, wholly unacceptable" actions by "Hamas sympathizers" and far-right groups at the National March for Palestine in central London.
"The despicable actions of a minority of people undermine those who have chosen to express their views peacefully," he said in a statement on X.
London's Metropolitan Police Service said officers arrested 82 counterprotesters. In a video statement, authorities said that the counterprotesters "seemed intent on confrontation and intent on violence." The arrests stemmed from offenses such as possession of a knife, possession of a baton, possession of drugs and assault on an emergency worker, according to police. There were no immediate reports of arrests from the main protest.
"Remembrance weekend is a time for us to come together as a nation and remember those who fought and died for our freedoms," Sunak said. "What we have seen today does not defend the honor of our Armed Forces, but utterly disrespects them."
Second child reported dead at Al-Shifa hospital
TEL AVIV — Dr. Ashraf Al-Qudra, a spokesman for the Palestinian Ministry of Health, says a second child in the nursery of the Al-Shifa medical complex has died after the electrical generator stopped and the complex went out of service.
Al-Qudra earlier told a news conference that the complex was effectively out of service due to heavy bombardment. He said the intensive care and pediatric departments were hit with power outages.
Surgeon at Al-Shifa hospital describes chaos
Amid a recent power outage at Gaza's main hospital and increased fighting in the area, Dr. Marwan Abusada told NBC News "ambulances cannot move from Shifa to take any patients outside or inside."
Pro-Israel protest planned in Washington, D.C.
While protesters have amassed in cities including London, Berlin, Tokyo and New York in recent days to demand a cease-fire in Gaza, several recent demonstrations in the U.S. and a major one planned for Tuesday have been organized to show support for Israel.
On Friday, protesters gathered outside the Manhattan home of U.N. Secretary-General António Guterres to demand the release of hostages held in Gaza. And several national Jewish organizations are planning a rally on the National Mall in Washington, D.C., on Tuesday.
The goals of that upcoming demonstration are to condemn Hamas' Oct. 7 attacks, call for a release of the hostages, and oppose antisemitism, according to statements on the organizations' websites.
Eric D. Fingerhut, president and CEO of the Jewish Federations of North America, said the protest also aims to show support for Israel's right to "eliminate the terrorist threat on its border and restore safety and security to its people" and demonstrate to the world that "America supports the people of Israel in its time of need."
Doctors Without Borders calls for immediate cease-fire following heavy bombardment
Doctors Without Borders called for an immediate cease-fire and said the "attacks against hospitals must STOP" following a night of heavy bombardment.
"The hostilities around the hospital have not stopped," the charity said in a statement.
It currently has teams staffed at the Al-Shifa hospital complex, which it said has been hit several times, including the maternity and outpatient departments. There have been multiple deaths and injuries, the group said.
"We are being killed here, please do something," one nurse texted as he hid in the basement of the hospital with his family, according to the charity. "Four or five families are sheltering now in the basement, the shelling is so close, my kids are crying and screaming in fear."
Doctors Without Borders denounced what it said is a "death warrant on civilians currently trapped in Al-Shifa Hospital signed by the Israeli military."
"There needs to be an urgent and unconditional ceasefire between all warring parties; humanitarian aid must be supplied to the entirety of Gaza now," the charity said.
Tensions escalate in Lebanon
The United Nations' humanitarian coordinator in Lebanon, Imran Riza, warned yesterday of "concerning signs of escalating tensions" along the country's border with Israel.
"We have recently witnessed alarming attacks killing and injuring civilians in South Lebanon, including women, children, and media personnel," he said.
The statement came amid an increase in hostilities in the area. On Saturday, the Israel Defense Forces said that the small community of Margaliot in northern Israel had been targeted by a rocket that "fell in an open area." The military responded with artillery fire toward the source of the launch in southern Lebanon, the IDF added.
Reuters reported that troops and tanks could be seen along the border in northern Israel on Saturday, along with smoke rising in the sky.
The prior day, Lebanon's Ministry of Public Health said the Mays al-Jabal Hospital in southern Lebanon was hit by artillery fire, injuring one health worker and damaging the emergency department. The ministry blamed Israel for what it said was a "grave violation of international humanitarian law."
Riza said the escalating clashes between Hezbollah and the Israeli military have displaced 25,000 people in the border region.
In an interview with NBC News last week, Naim Qassem, Hezbollah's deputy secretary-general said that the Iran-backed militant group was involved in the conflict "for the sake of lowering the pressure on Gaza," and that there would be "serious consequences" if Israel expanded the war.
Israeli tanks are attacking the Al-Quds hospital, the Palestine Red Crescent Society says
Israeli tanks are attacking the Al-Quds hospital, the Palestine Red Crescent Society said. In a post on X, the society said tanks were shooting directly at the hospital, "creating a state of extreme panic and fear among 14,000 displaced people."
In another post, the society pleaded to the "international community and humanitarian institutions to intervene immediately."
"Our crews are trapped inside the hospital, Israeli tanks and military vehicles surround the hospital from all sides, artillery shelling and intense shooting at the hospital and a number of injuries is not yet known," the post read.
Israel Defense Forces claim they killed Hamas leader Ahmed Siam
The Israel Defense Forces claim they killed Hamas leader Ahmed Siam during a recent strike. The group said Siam was responsible for holding about 1,000 Gaza residents and patients hostage at the Rantisi Hospital, preventing them from evacuating.
"Siam was a commander in Hamas' Naser Radwan Company, and is another example of Hamas using civilians in Gaza as human shields for terrorist purposes," the IDF said in a post today on the social media platform X.
U.N. has not been able to deliver food to northern Gaza for over a week
The U.N. has been unable to deliver food supplies to the north for the past eight days, according to a briefing yesterday by Stéphane Dujarric, a spokesperson for the U.N.'s secretary-general.
As of Thursday, there were no bakeries operating in the north, Dujarric said, because of a lack of fuel, water and flour, as well as damage to the structures. He added that people have been queuing for hours for food, exposing them to continued airstrikes.
Basic food items including flour, dairy, eggs and bottled water have "disappeared" from shelves across the strip over the last two days, he said, with other stocks of essential items such as rice and cooking oil depleting quickly.
For the first time, Palestinian officials have not released a death toll
For the first time since the Hamas-led terrorist attacks of Oct. 7, Palestinian officials have not released a death toll.
Counterprotesters arrested in London after clashing with police
LONDON- Far-right counterprotesters descended on London Saturday to confront a crowd marching in support of a cease-fire in Gaza, and at least 82 were arrested, police said.
In a series of posts on the social media site X, the city's Metropolitan Police said they arrested a group of counterprotesters in Pimlico, in central London, "to prevent a breach of the peace." Police said they encountered the group near the Westminster Bridge as the counterprotesters attempted to reach the main march, and were met with violence as members "threw bottles and other missiles" at officers.
Many counterprotesters mainly opposed the march's timing, as Saturday is Armistice Day in Britain — the anniversary of the end of World War I, which is often marked by military parades and a wreath-laying ceremony. Senior members of the U.K. government, including Prime Minister Rishi Sunak, said it was disrespectful to hold the march on Armistice Day.
Two other counterprotesters were arrested in Soho on charges of assaulting police and possession of a controlled substance, police said. No arrests have been made in connection with the main pro-Palestinian protest.
Thousands gather for London's largest pro-Palestinian protest so far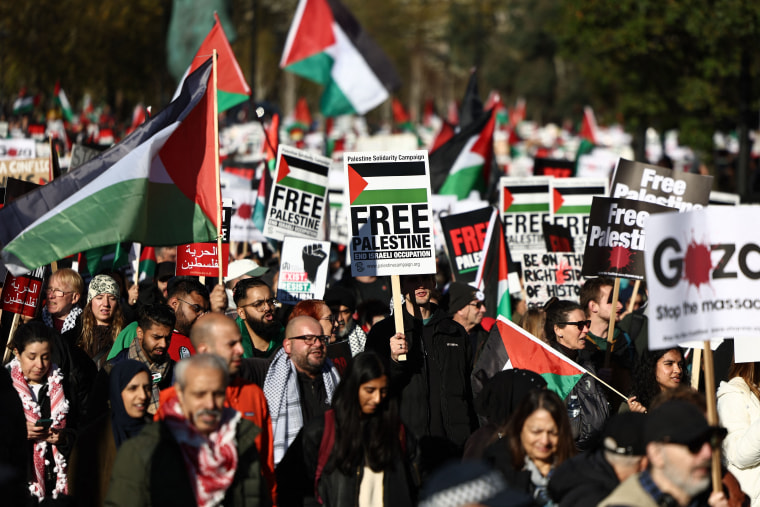 LONDON — Thousands of pro-Palestinian protesters streamed into London's main shopping district, Oxford Street, today to demand an end to Israel's bombing of Gaza. Some traveled for hours to join the demonstration.
"We condemn what's happened to Israel — of course we do," said Hasnat Miah, 38, from Manchester. "What is happening in Gaza now is beyond belief. … It needs to stop."
The businessman said the last protest he attended in London was one against the invasion of Iraq in 2003. Saturday's multiethnic crowd was there to show support and be "as loud as we can," he said.
The protest, which is expected to amass hundreds of thousands of people, was already spilling over as much as half a mile beyond the meeting point.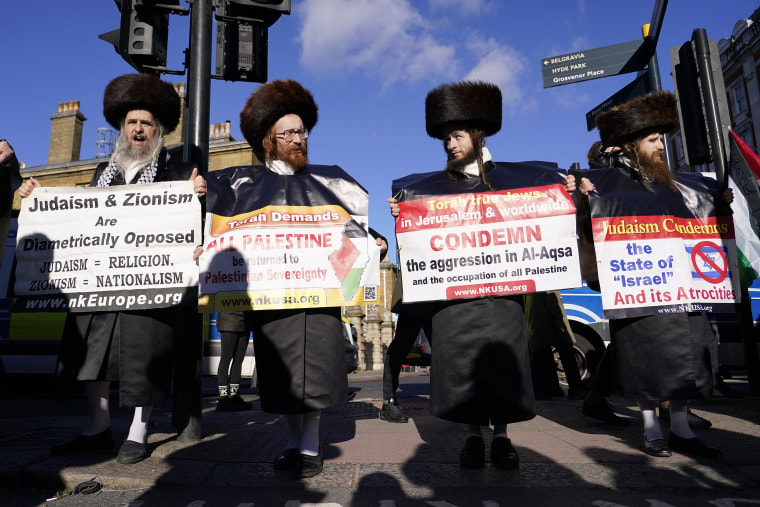 The group included many families holding handmade placards and Palestinian flags. Chants of "Free Palestine," "Israel is a terror state," and "We are all Palestinians," broke out sporadically.
Helicopters circled above as police braced for the largest protest in London in response to the war so far. The marchers headed south towards the River Thames and across to the U.S. Embassy.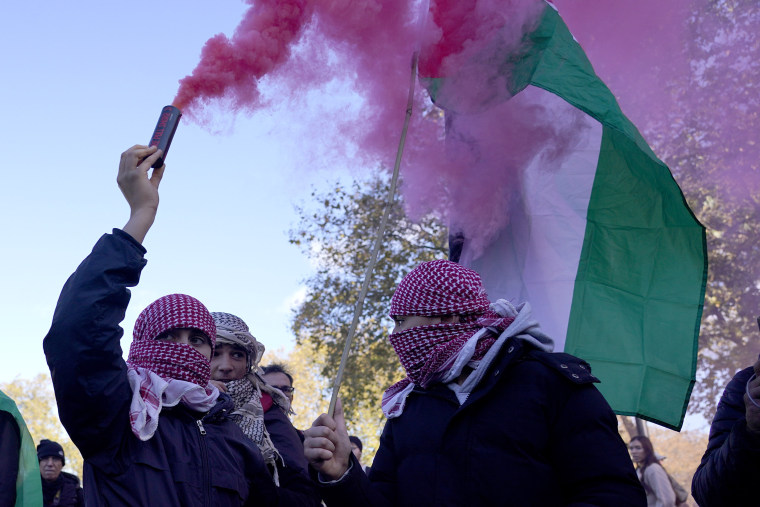 'No justification' for continued bombing of Gaza, says Macron
France's President Emmanuel Macron urged Israel to stop bombing Gaza yesterday, prompting Israeli Prime Minister Benjamin Netanyahu to issue a late-night defense, laying the blame for civilian deaths caused by Israel's bombardment of Gaza on Hamas.
"The responsibility for any harm to civilians lies with Hamas — ISIS and not with Israel" Netanyahu said in a statement released by his office early Saturday on X.
Macron had called for a cease-fire during an interview televised by the BBC, the British broadcaster. While saying that France "clearly condemns" Hamas and upholds Israel's right to protect itself, he added that "we do urge them to stop this bombing" in Gaza and said that he hoped leaders in the U.S. and Britain would join his calls for a cease-fire.
Protesters are gathering in London in a pro-Palestinian march to the U.S. Embassy
LONDON — Protesters are arriving at Hyde Park Corner in London for a 2.5-mile march to U.S. Embassy. Hundreds of thousands of protesters are expected to join the call for a cease-fire in the Gaza Strip. This is the fifth week of pro-Palestinian marches in the U.K. capital.
"I'm marching because people in Gaza say it gives them hope to see us out in our numbers," said Ben Snaith, 26, a data researcher from London. This protest for Gaza was "much busier" than ones he attended in previous weeks, he added.
The protest caused political controversy in the U.K., as interior minister Suella Braverman described the protests as "hate marches."
Protests have also been held in Berlin and Tokyo this week and are planned in Miami later today. Last night, Grand Central Terminal in New York was briefly shut down by pro-Palestinian protesters.
Medical teams work under torchlight at Gaza's Al Quds hospital
Doctors treating injured patients at Al Quds hospital in northern Gaza are conducting operations under torchlight due to a lack of fuel and aid, video footage released by the Palestine Red Crescent Society shows.
Hospital workers throughout the besieged strip have warned that patients are starting to die inside hospitals due to the lack of fuel and medical equipment. Early this morning, the PRCS said that Al Quds hospital was at risk of closure "within hours" due to the "depletion of fuel supplies and the non-arrival of aid."
"500 patients and injured will be deprived from medical care," the PRCS said in a post on X. "Those who are at the ICU and babies in incubators will lose their lives."
Israel revises death toll down to around 1,200, says identification processes are ongoing
TEL AVIV — The Israeli government has revised its current toll of the number of people killed in Israel so far to around 1,200, roughly 200 fewer than previously reported, according to a statement from Lior Haiat, a foreign ministry official, late on Friday. He did not offer reasoning.
A source from the Israeli prime minister's office on Friday told NBC News' Tel Aviv bureau that the roughly 1,200 figure is not final because identification processes are still ongoing. They also said around 100 people were still missing, in addition to the 239 hostages taken by Hamas.
Official figures will be released and distributed in the coming days, the source from the prime minister's office said.
Saudi Arabia calls for an 'extraordinary summit' on Gaza
Leaders from across the Arab and Islamic world have begun arriving in Saudi Arabia's capital, Riyadh, for an emergency summit "in response to the unprecedented circumstances in Gaza," the kingdom's foreign ministry announced today in a post on X.
Iran, Saudi Arabia's historic regional rival, will join the summit, represented by President Ebrahim Raisi, in the first visit to Saudi Arabia by an Iranian head of state after years of regional hostility.
"Gaza is not an arena for words. It should be for action," Raisi said in televised comments at Tehran's airport before departing for the summit of Arab and Islamic nations in Riyadh. "Today, the unity of the Islamic countries is very important," he added.
Photos: Israeli military destroys buildings in Gaza
Images released by the Israel Defense Forces show a gun firing at a building inside the Gaza Strip (top) and troops taking position as an army bulldozer demolishes a building.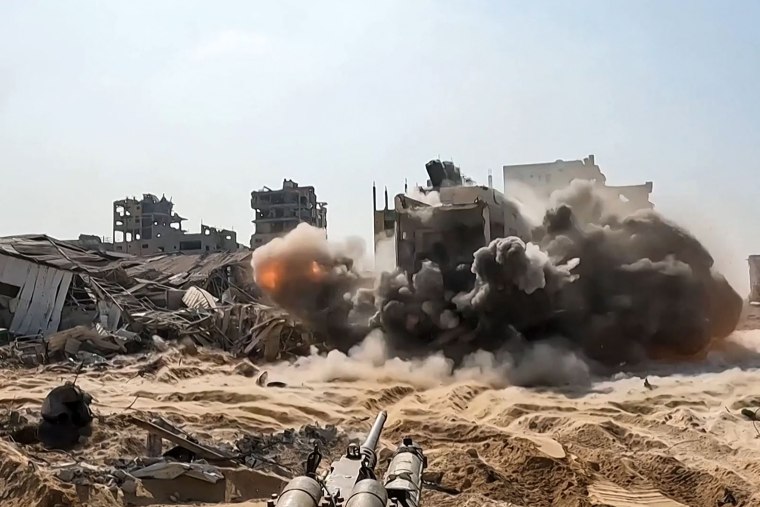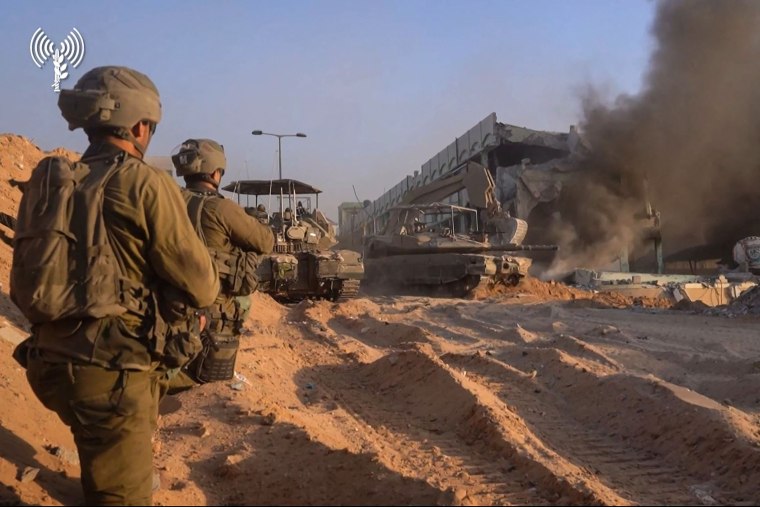 U.N. rights chief expresses 'very serious concerns' about attacks on civilians
Volker Türk, the U.N. high commissioner for human rights, said yesterday that Israel must end its use of "high impact explosive weapons," which were causing indiscriminate destruction and high civilian deaths across Gaza.
"It is clear that enduring peace and security cannot be delivered by the exercise of fury and pain against people who have no responsibility for the crimes that were committed," Türk said. "This is unprecedented, outrageous and deeply heartbreaking."
Türk called for Israel to "immediately end the use of such methods and means of warfare, and the attacks must be investigated." The U.N. is monitoring Israeli strikes in densely populated residential areas across Gaza, Türk said, adding: "We have very serious concerns that these amount to disproportionate attacks in breach of international humanitarian law."
Gaza City's Al-Shifa medical complex out of service as bombardment continues
TEL AVIV — At Al-Shifa hospital in Gaza City, doctors and health officials are reporting electricity outages amid heavy bombardment through the night and into Saturday morning.
Dr. Ashraf Al-Qudra, spokesman for the Palestinian Ministry of Health, said in a news conference this morning that the Al-Shifa medical complex was out of service due to heavy bombardment. He said the intensive care and pediatric departments were hit with power outages, resulting in at least two deaths.
Dr. Marwan Abusada, a surgeon at the hospital who is also head of international cooperation at Gaza's Ministry of Health, told NBC News that the electricity in the intensive care unit had been cut. He said at least two people died, including an infant, "because we did not have electricity." NBC News was not immediately able to independently confirm the situation on the ground.
Abusada said doctors are still providing care for patients in the ICU and relying on "a battery system." But he said that with the relentless bombardment around the hospital and the sounds of shooting outside, he fears for the safety of the thousands of people taking shelter there.
He and Al-Qudra both also warned that vital resources were dwindling. "We don't have electricity. We don't have water. Even, we don't have food," Abusada said.
The Israel Defense Forces told NBC News that in the early hours of the morning, there was "ongoing intense fighting against Hamas in the vicinity" of Al-Shifa hospital. A spokesperson said the IDF could not address questions on "specific military activity currently underway."
Death toll in Gaza tops 11,000
The death toll in Gaza has reached 11,078, according to the Palestinian Ministry of Health, with at least 27,490 people wounded.
At least 4,500 of the dead are children, the ministry added, representing over 40% of those killed.
The death toll has increased sharply since the beginning of Israel's ground invasion at the end of October. Over 1,400 people have also been killed in Israel, most on Oct. 7, according to Israeli government figures released on Tuesday.
Group of Jews and Arabs come together to spread peace in Israel
A group of Jews and Arabs are working together to protect each other and spread peace across the ancient city of Jaffa, Israel.
The group, which has around 3,000 members, puts up posters promoting peace and offering a help line for reporting violence.
"This land can hold more than one narrative, more than one religious national narrative," volunteer Jean-Marc Liling said. "I think we have to get beyond the justified fear of each other."
Netanyahu meets heads of communities from around Gaza Strip
TEL AVIV, Israel — Israeli Prime Minister Benjamin Netanyahu has praised the resilience of communities near the Gaza Strip that were targeted in deadly attacks by Hamas last month, and he renewed a vow to neutralize the Palestinian militant group.
At a meeting with community leaders from the region Friday, Netanyahu said: "First of all [our priority is] to restore security — to make sure that there is no Hamas and that Hamas does not return — but also to make sure that there will be a strong life afterward."
Palestinian American family describes fear, humiliation in Gaza
A Palestinian American family expressed gratitude that they were able to return home to Massachusetts this week, after spending a month trapped in Gaza as Israeli forces showered the enclave with airstrikes.
Abood Okal, Wafaa Abuzayda and their 1-year-old son, Yousef Okal, were visiting relatives in northern Gaza when Hamas militants attacked Israel, sparking retaliatory waves of shelling and leaving them trapped in Gaza.
For the next 27 days, they prayed for their survival.
"Our biggest hope was that this is a nightmare that we wake up from," Abood Okal said.
U.S. working to get fuel to Gaza hospitals, diplomat tells U.N.
A top U.S. official at the United Nations told the U.N. Security Council that the U.S. has been working to help get fuel to hospitals in Gaza.
"We know that hospitals are in desperate need of fuel. The United States has been working tirelessly to put in place mechanisms to enable the fuel to reach hospitals and to meet other urgent needs in the south," Robert Wood, a U.S. representative in the United Nations, said on Friday. "But I also want to make clear that we share Israel's concerns about Hamas' hoarding and siphoning of fuel in northern Gaza. This is unacceptable, and we must all call it out."
Though hundreds of aid trucks have entered Gaza since the war began last month, they have not been allowed to bring fuel because of Israel's concern that it could be used by Hamas to power rockets.
The Palestinian Red Crescent Society said yesterday on social media that the Al-Quds hospital in northern Gaza was at risk of closing within hours as it runs out of fuel.