World
Biden convenes emergency meeting of world leaders after missile crosses into Poland, killing two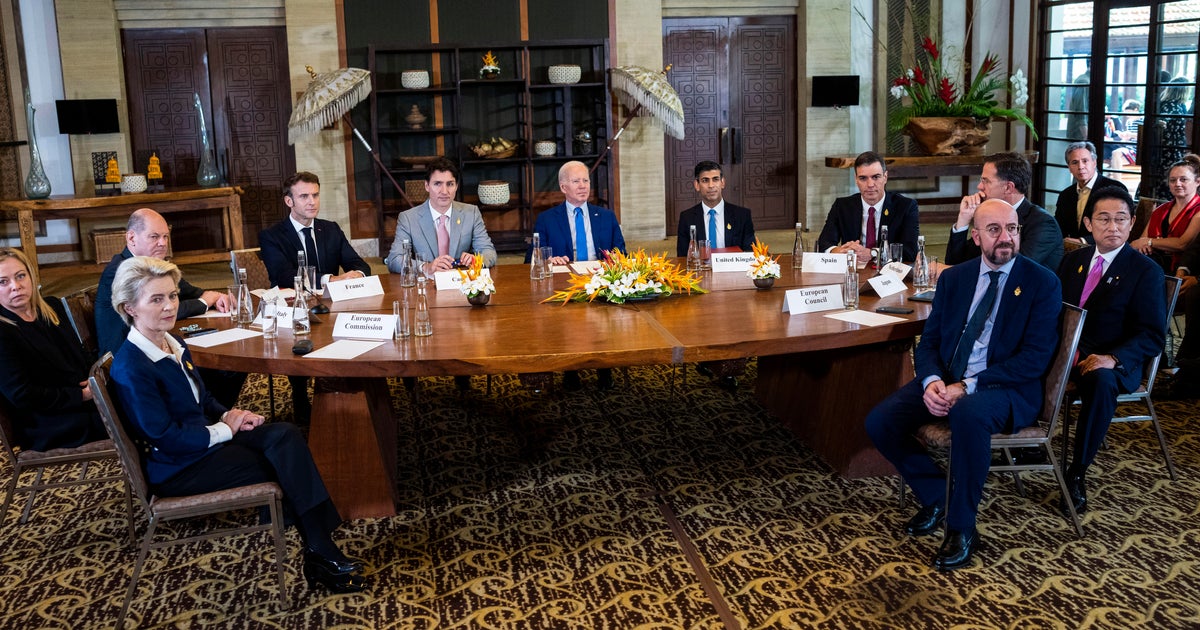 President Joe Biden convened an emergency meeting of world leaders after an explosion in eastern Poland, very near the Ukrainian border, which left two Polish citizens dead on Tuesday. The cause of the explosion was a missile or missile parts that crossed into Poland, but the origin of the projectile remained unclear. 
Mr. Biden told reporters in Bali, Indonesia, where he was attending a G20 summit, that it was "unlikely" the missile had been fired from Russia, based on its trajectory. But the president added that the investigation was ongoing, and "we'll see." 
He called Russia's ongoing barrage of missile attacks on Ukraine, which surged on Tuesday, "totally unconscionable," and noted that "scores and scores" of missiles had struck the country even as as leaders gathered for the G20 summit and urged deescalation in the nearly-nine-month war.
The Polish foreign ministry said earlier that the missile, which landed in the Polish village of Przewodów, was Russian-made, but President Andrzej Duda was cautious about its origin, saying officials did not know for sure who fired it or where it was made. He said it was "most probably" Russian-made, but that was still being verified. Both Russia and Ukraine have relied on stocks of Soviet-era Russian missiles during the war.
"We are acting with calm," Duda said. "This is a difficult situation."
The meeting convened by Mr. Biden, early on Wednesday in Bali, included German Chancellor Olaf Scholz, Prime Minister Justin Trudeau of Canada, French President Emmanuel Macron, Italian Prime Minister Giorgia Meloni, Japanese Prime Minister Kishida Fumio, British Prime Minister Rishi Sunak, EU President Ursula von der Leyen and EC President Charles Michel. 
After the missile fell, Polish Foreign Affairs Minister Zbigniew Rau "demanded immediate and detailed explanation" from Russia, according to a statement by the Polish foreign ministry.
Poland also noted that the incident took place as "another hours-long, massive shelling took place of the entire territory of Ukraine and its critical infrastructure by the armed forces of the Russian Federation." 
However, the statement did not address the circumstances of the strike, including whether it could have been a targeting error or if the missile could have been knocked off course by Ukrainian defenses. A NATO statement called it a "tragic incident." Earlier, a senior U.S. intelligence official had said that Russian missiles had crossed into Poland, but Poland's statement said it was one missile. 
Polish Prime Minister Mateusz Morawiecki said the government was investigating and raising its military preparedness level.
The Russian Defense Ministry denied responsibility for the incident, insisting that "no strikes were made against targets near the Ukrainian-Polish state border by Russian means of destruction."   
In their statements, Poland and NATO used language that suggested they were not treating the explosion as a Russian attack, at least for now.
If Russia had deliberately targeted Poland, it would risk drawing the 30-nation NATO alliance into the conflict.
NATO Secretary-General Jens Stoltenberg called an emergency meeting for Wednesday of the alliance's envoys to discuss the event, and Ukraine's Ambassador to the United Nations Sergiy Kyslytsya told CBS News that he expected the incident to be discussed at a previously scheduled U.N. Security Council meeting on Ukraine on Wednesday, too. 
President Biden was briefed on the incident and spoke by phone with Poland's Duda from Bali. According to a readout of the call, Mr. Biden offered the U.S.' full support and assistance with Poland's investigation, and he reaffirmed the U.S.' commitment to NATO. The two leaders agreed to remain in close touch as the investigation unfolds.
The National Security Council said in a statement that the U.S. was "working with the Polish government to gather more information," and would "determine what happened and what the appropriate next steps would be." 
Russia pounded Ukraine's energy facilities on Tuesday with its biggest barrage of missiles yet, striking targets across the country and causing widespread blackouts. A defiant Ukrainian President Volodymr Zelenskyy shook his fist and declared, "We will survive everything."
Zelenskyy said Russia had fired at least 85 missiles, "most of them at our energy infrastructure," and shut down power in many cities.
The aerial assault, which resulted in at least one death in a residential building in the capital, Kyiv, followed days of euphoria in Ukraine sparked by one of its biggest military successes — the retaking last week of the southern city of Kherson.
The power grid was already battered by previous attacks that destroyed an estimated 40% of the country's energy infrastructure.
Russian President Vladimir Putin has not commented on the retreat from Kherson since his troops pulled out in the face of a Ukrainian offensive. But the stunning scale of Tuesday's strikes spoke volumes and hinted at anger in the Kremlin.
By striking targets in the late afternoon, not long before dusk began to fall, the Russian military forced Ukrainian rescue workers to labor in the dark and gave repair crews scant time to assess the damage by daylight.
More than a dozen regions — among them Lviv in the west, Kharkiv in the northeast and others in between — reported strikes or efforts by their air defenses to shoot missiles down. At least a dozen regions reported power outages, affecting cities that together have millions of people. Almost half of the Kyiv region lost power, authorities said. Ukrainian Railways announced nationwide train delays.
Zelenskyy warned that more strikes were possible and urged people to stay safe and seek shelter.
Eleanor Watson, Ed O'Keefe, Camilla Schick and Pam Falk contributed to this report.