World
'Emergency' on Crimea bridge, cluster bomb threats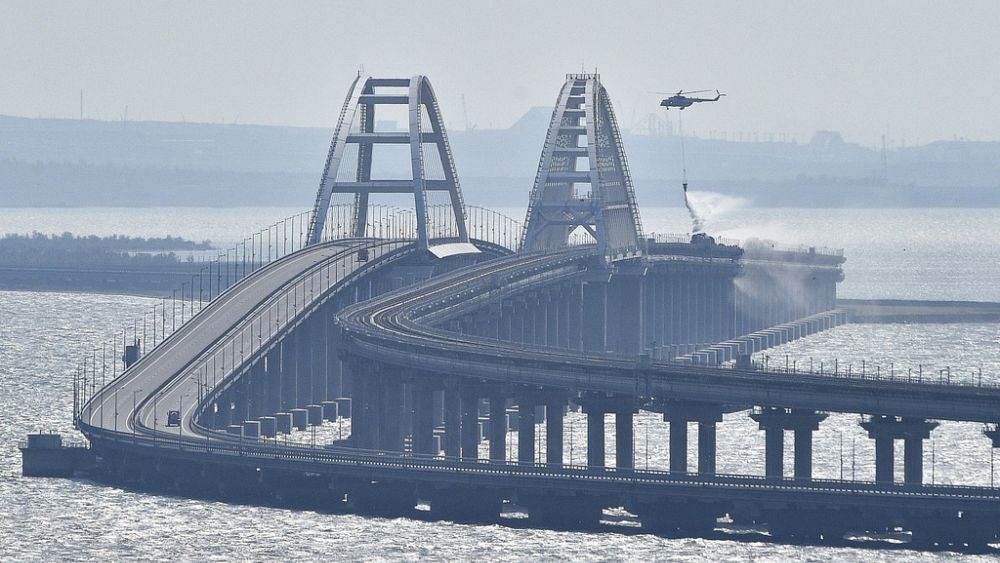 All the latest developments from the war in Ukraine.
Reports of explosions and deaths on Crimea Bridge
Traffic on the key bridge connecting Crimea to Russia's mainland has been halted amid reports of explosions.
Russian officials say two people have died in what they called an "emergency" on the Kerch bridge to the Black Sea peninsula. 
The governor of Crimea, illegally annexed by Russia in 2014, announced the closure early Monday but did not specify the reason.
The incident has not been called an attack, though local residents report hearing explosions before dawn.
This has not been confirmed by officials. 
The extent of the damage was not immediately clear, but Governor Sergei Aksyonov said he expected rail traffic on the bridge to resume within several hours.
The 19-km bridge, which was opened in 2018, is a key supply route for Russian forces in southern Ukraine. 
It was damaged in October by a truck bomb and required months of repairs before resuming full service. 
Russia repels drone attack on Black Sea port
Moscow says it has thwarted an attempted drone attack on its fleet in the Black Sea port of Sevastopol. 
Mikhail Razvozhayev, the Moscow-installed governor of Sevastopol, said on Telegram the assault took place early on Sunday morning over the city's harbour and Balaklava and Khersones districts.
Sevastopol is the largest city in Crimea and a major port on the Black Sea, a very strategic location amid the war. 
Russia's air defences and Black Sea fleet reportedly took out a total of nine drones throughout the attack, which officials said caused no damage or casualties.
Russia warns Kyiv over cluster bombs – Putin
Russian President Vladimir Putin said on Sunday Moscow has a "sufficient stockpile" of cluster munitions. 
He warned Ukraine that Russia "reserves the right to take reciprocal action" if it uses the controversial weapons, recently obtained from the US.
Putin claimed Russia hasn't used cluster bombs in the war with Ukraine so far. But their use has been documented extensively by both Moscow and Kyiv, including by The Associated Press and international humanitarian organisations. 
"Until now, we have not done this, we have not used it, and we have not had such a need," he alleged. 
The munitions, which open in the air and release scores of smaller bomblets over a large area, are seen by Washington as a way of helping Kyiv bolster its offensive and break through deeply entrenched Russian forces. 
US President Joe Biden made the final decision to send cluster bombs last week.
Handing over the widely banned weapons has been sharply criticised by the US's allies and humanitarian groups, due to their indiscriminate nature and tendency to kill and maim civilians with unexploded bomblets long after a conflict has finished.